Delicious Homemade Food
Our full kitchen team really does care as much about food as we do about climbing. Over the last 2 years, we have focussed on successfully learning new artisan skills. Our team is passionate about what we create meaning we can add delicious, quality items to our menu! We now bake our sourdough bread at three Hangar sites and continue to develop our skills as a team to create food we love. 
You can enjoy one of our smoothies as a prework snack in the morning or sit down with friends and have a fresh sourdough pizza or toastie paired with a cold beer in the evening. Hangar food is just as much of the climber's lifestyle as putting your shoes on and getting on the wall.  
Ethical & Sustainable Produce
As climbers we love the natural environment so ensuring we are protecting that with our choices is extremely important. We are a plastic-free café, using only Vegware compostable disposables and having plastic-free fridges.  
From an ethical standpoint, we took a big jump over a year ago and removed all brands that we felt did not meet our ethos as a company. Out went the big brands and in came more ethical options like Karma Cola, Minor Figures, and Tony's Chocolonely.  
We also have an alcohol license at all Hangar sites, so you can enjoy a cold beer with friends after a climb or at one of our many social events and competitions.
We're proud to announce that we now stock Toast ale in all of our venues. The guys at Toast are always working hard to fight the climate change crisis. By using surplus bread to replace barley, they use less land, water and energy, and avoid carbon emissions – and don't compromise on taste!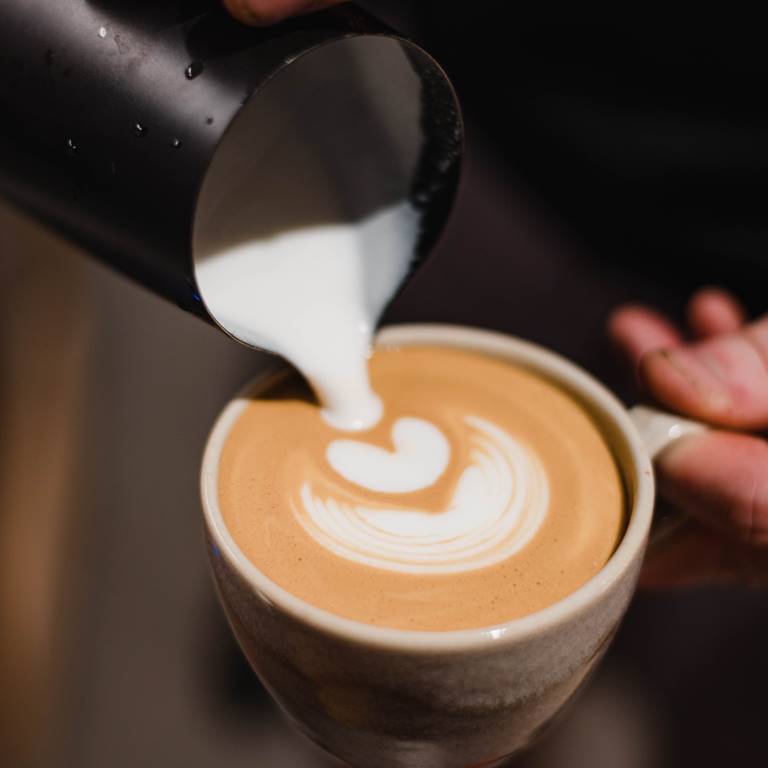 Local Partners
Our catering manager, Kerry, has a history of working in small businesses so she has seen the impact working with local companies has had first-hand. This is an important value to our Hangar cafes.  
All Hangar sites use local butchers to ensure we only use high-quality meat in our homemade sausage rolls and other menu specials. We also have a strong focus on vegetarian/ vegan food (our homemade halloumi saag roll offers stiff competition for a customer favourite against the meat alternative!). 
Our sourdough starters have all come from Liverpool-local bakery, SourdO's, and we use local bakeries for sweet treats or bake them in-house. Our Hangar-exclusive blend of coffee, 'Wake me up before you dyno', has been developed with Neighbourhood Coffee which allows us to maintain the same high-quality coffee across all sites and work with a business that has complete bean-to-cup traceability. 
We take pride in the fact that money spent with us in the Hangar café is money into the pocket of local heroes working tirelessly to bring you the highest quality products, rather than into the pockets of large corporations.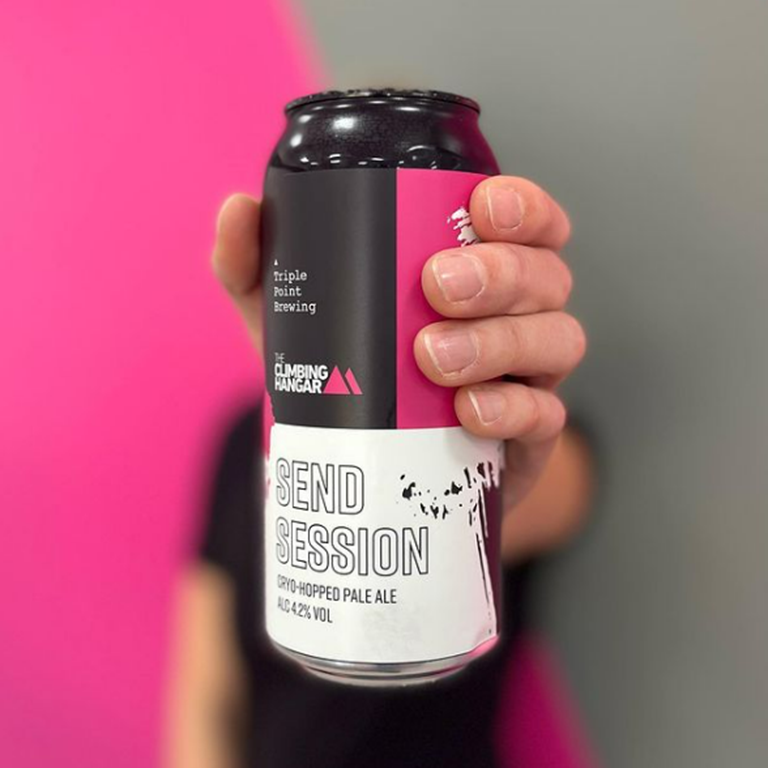 Hangar Send Session IPA
We've partnered with Triple Point Brewery in Sheffield to create our favourite own beer!
Send Session IPA is a 4.2% Cyro hopped hazy pale. Heavily hopped but low bitterness. It's vegan and gluten-free <20PPM. Suitable for people with gluten intolerance. So, it should make for happy sipping for most!
The name Send Session was chosen as this brew is for those celebration post climb moments after a hard day of sending your projects.
This is a limited-run beer, so get down to your local Hangar to try it before it's gone.
Pay it forward
For every can of Send Session IPA sold, we will offer a free tea or coffee for those who attend our Refugees Rock sessions in Liverpool and Sheffield.
MENUS
Our menu is designed to suit all types of climbers. We offer food available for Breakfast, Lunch, and Dinner.  Whether you're here for fitness, fun, or family entertainment.  
Our menu differs from site to site but no matter which Hangar you dine in, you can ensure we have done our best to provide local, fresh, and ethical foods.
Look at our sample menu below to see what kind of food and drink you can expect at our cafes. 
Please note, sourdough pizzas aren't available at Hangar London due to the size of the kitchen.