What is the Refugees Rock Climbing Club?
Refugees Rock is a free climbing club for people fleeing war, persecution, and exploitation. We work alongside the British Red Cross and several local charities at all our walls across the UK to bring people from all backgrounds together to have fun in an inclusive community, build relationships based on trust and gain a sense of belonging. Newcomers to the UK are invited to climb for free alongside Hangar coaches and volunteers from the Hangar Community… then grab free coffees and hang out together in a relaxed, welcoming setting.
We now have one community built across a network of walls across the UK, and it doesn't just stop at The Climbing Hangar, we've also partnered with Rockover in Manchester and The Climbing Hut in Ellesmere Port to bring Refugees Rock to even more people.
Why does the group exist?
Few of us are aware of just how tough life has been for people seeking protection in the UK and the arduous journeys they make to find sanctuary here. Then there is the waiting on a decision from the Home Office on whether or not they are allowed to stay here. With an allowance of around £6 per day and no permission to work it is near impossible to maintain any quality of life at all, so much so that physical exercise and mental wellbeing become incredibly difficult to take care of.
Knowing the benefits of climbing as we do at The Climbing Hangar, our mission is to make the benefits of indoor climbing available to as many people as possible. That's why we're working with Action Asylum and British Red Cross to roll out Refugees Rock sessions at as many of our venues as possible.
Being part of a local community group can be life-changing for asylum seekers and refugees. It provides a sense of belonging, support, and connection that is so important for those who have been through difficult experiences. Through climbing, we're creating a space where everyone is welcome, and where we can all learn from each other.
Don't just take our word for it. Refugees Rocker, Fadi Bobo, who was an outdoor climber before fleeing his home in Lebanon, said "I like this kind of sport because there is no winner or loser, everyone we will win together, we will all reach the top. We help each other. I like the climbing community because everyone is happy and friendly."
Rahim's story

Rahim arrived in the UK in May 2020 and fled his home country due to fear of being persecuted. In the summer of 2021, Rahim was invited to join Refugees Rock at The Hangar Liverpool Matchworks. This means Rahim had spent more than a year getting by on minimal resources to improve his life, improve his wellbeing or meet like-minded people. Over the course of four visits to TCH, Rahim was able to train and make a bunch of new friends. He met all the other participants during the sessions and is forming bonds that will last a lifetime.
"I had climbed a little back home and mostly outside, so when I was invited to join Refugees Rock I was so happy. TCH, is now my favourite place to climb," says Rahim, who has since been signed up for a free Hangar membership. "These visits did not only help me physically, but spiritually, and gave me the chance to meet lots of nice new people".
When Rahim received his refugee status in November 2021, he received a greeting card from his fellow climbers, and some Hangar goodies, to celebrate. The group cheered, hearing that Rahim now had his status. Only now would he be permitted to find work and begin to rebuild his life in the UK.
Hangar Community Volunteers
'Refugees Rock allows people seeking asylum to have some freedom from their daily worries, it's Mindfulness in Action! These are people who have had to leave everything behind, sometimes their whole families, their friends, their profession, and even their pets! Working as a Social Worker at Asylum Link, daily I see people struggle, but when we are at TCH 'Refugees Rock', I see people start to relax and their personalities shine through! I see people smile, make friends and cheer each other on, it's powerful stuff!' – Emma Leaper, Action Asylum.
Action Asylum is a volunteering and wellbeing project housed at Asylum Link Merseyside; a charity offering friendship and support to people seeking sanctuary. Find out more here.
Action Asylum brings together people seeking asylum with their local communities to volunteer and improve mental wellbeing. 'We do a lot of conservation work. This year alone, volunteers have planted over 3000 trees and taken part in 5 beach cleans! It's great to be out in nature and doing something useful to protect the environment!'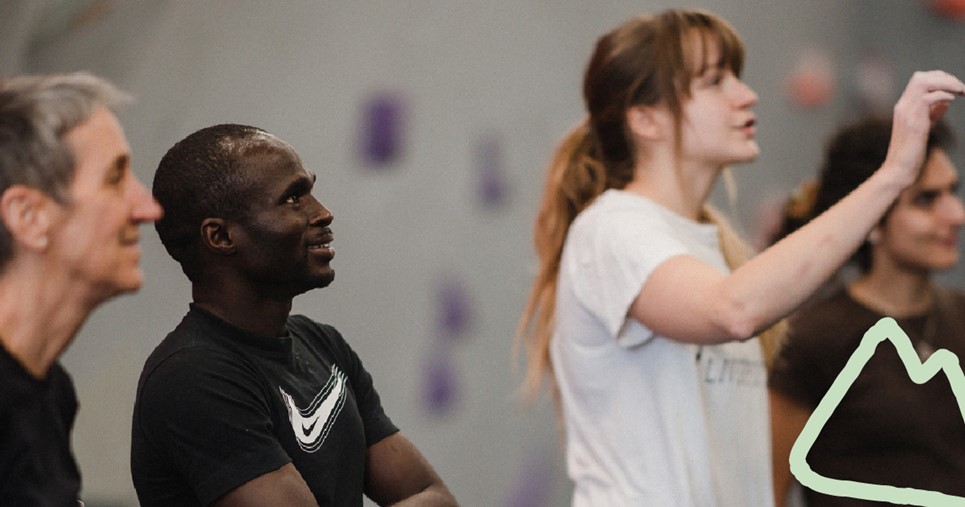 Helene Santamera, who works for the British Red Cross as Project Coordinator for Refugee Support, and is also a member of the Hangar says:
When I heard that Emma Leaper from Action Asylum and Jay Railton from TCH had set up this project back in May 2021, I jumped at the chance to be involved. I could immediately see how much this sport could help the people we support. After almost 15 years in the legal sector as a Refugee and Human Rights lawyer, I have listened to some of the most unimaginable stories of human suffering. Having heard first-hand what people go through made a climbing project with refugees so appealing to me. There is so much joy at the sessions, so much support, and so much laughter. It's a community!
It's hard to pick favourite moments - one for sure is when one of the young men turned to me with a look of awe on his face and said, "Helene, when I am on the wall, I am not thinking about anything else!" Imagine that! I also quite enjoy it when some new climbers come along and flash my projects. I mean, are you kidding me?!
For more information on how the British Red Cross helps refugees in the UK click here.
How can you help?
There are various ways for Hangar customers to support Refugees Rock. Like Rahim, our other Refugees Rockers will be receiving memberships therefore, we offer our customers the chance to buy suspended coffees, which means customers can pay forward a hot drink that will be provided to a refugee climber during their visit. You can also chip in for bus passes! But that's not all.
Customers can even volunteer to attend Refugees Rock as a "boulder buddy". There's no need to be a qualified coach. You're simply there to have some fun, hang out with new friends and help the Hangar to provide a warm welcome to participants. We're also working on some branded Refugees Rock merchandise to raise travel funds for our sessions across the UK. So, stay tuned for more on this.
Boulder buddy, Benjamina Albanese, said "I love being a Boulder Buddy! On the mats, we get to work together, learn from and about each other, forge friendships, and cheer on every new challenge our friends face! If that isn't a great example of how the world should be, I don't know what is. Communities like this show us the power of seeing the people beyond society's labels; sharing our stories, our beta, our fists bumps, and our joy!"
Register your interest or find out more via the button below:

Our Charity Partners
A huge thank you to all our wonderful partners helping us improve the wellbeing of so many Refugees Rockers!