Hangar Xmas Gift Boxes
Our beautiful Gift Boxes are presented in a recycled carboard box, with a bow hand tied by your very own Hangar Claus (also known as a member of the TCH crew).
Hangar Xmas Gift Boxes cost £20.
There are two packages to choose from.

Simply choose which box you'd like, either the Climbing Essentials or the Coffee Lovers - Or, if you're feeling particularly festive, both.

Climbing Essentials:
• RockTech Liquid Chalk 100ml
• Beta Climbing Tape
• Lapis UBER Brush
• Climb On! Skin Care Bar 0.5oz
Coffee Lovers:
• TCH Keep Cup
• Locally Roasted Coffee Beans (whole or ground to your request)
SOLD OUT ONLINE
How it works
Our gift boxes are purchasable via the TCH booking system in Rock Gym Pro.
They are available to collect on your next visit to TCH PLYMOUTH, or you can choose to pay £4 to ship anywhere in the UK via Royal Mail first class delivery.
*Collection is only available from TCH Plymouth
YOU MUST SELECT THE HIGHLIGHTED DATE IN THE CALENDAR IN ORDER TO PURCHASE A PRODUCT. THIS DOES NOT MEAN THE PRODUCT WILL ARRIVE ON THIS DATE. THE SYSTEM SIMPLY REQUIRES A DATE TO CONTINUE. SEE EXAMPLES BELOW:
Step one: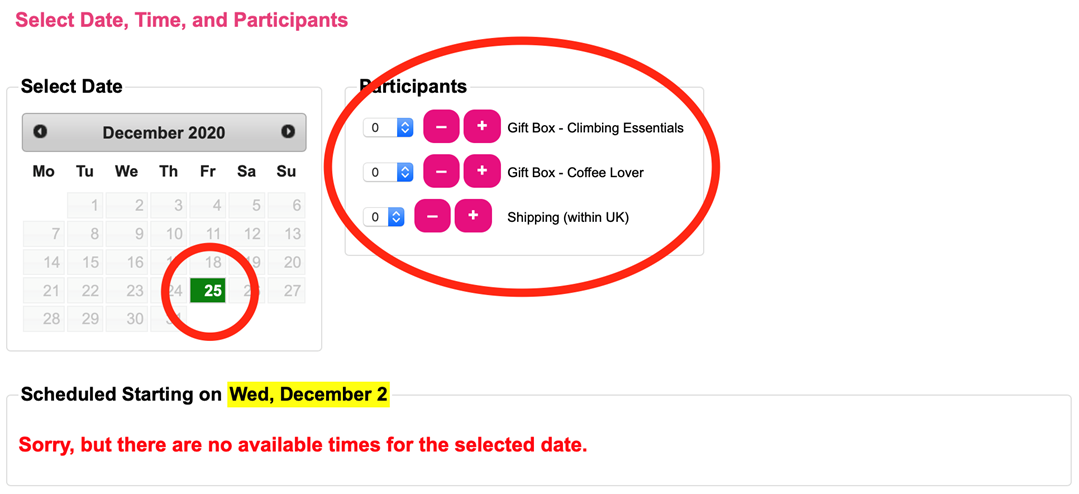 Step two: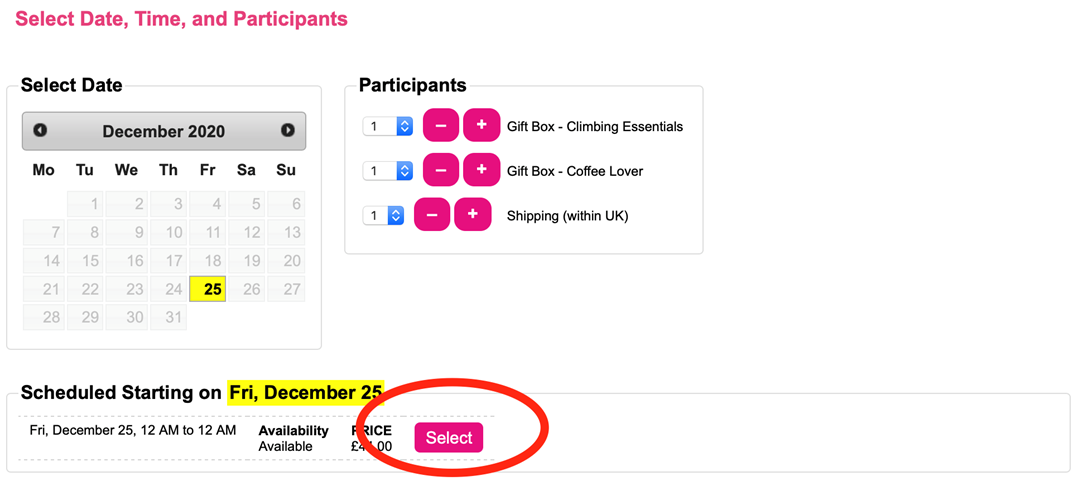 Hangar Gift Vouchers
If a Hangar gift box isn't right for you, why not purchase a voucher, which can be used to pay for entrances, climbing shoes, or much more?
Simply select your preferred Hangar venue and the amount you would like to credit. It's the gift that keeps on giving, once Christmas has come and gone.
15% OFF RETAIL (OR 20% FOR MEMBERS)
We're offering 15% of all retail items at The Climbing Hangar, or 20% for active Hangar members.
This offer excludes fundraising promotions, gift boxes or gift vouchers, but applies to all climbing shoes, Hangar apparel and much more.
Offer ends 24 December 2020.
Tis the season to be splurgin'!