TBL 2021: COMP SCHEDULE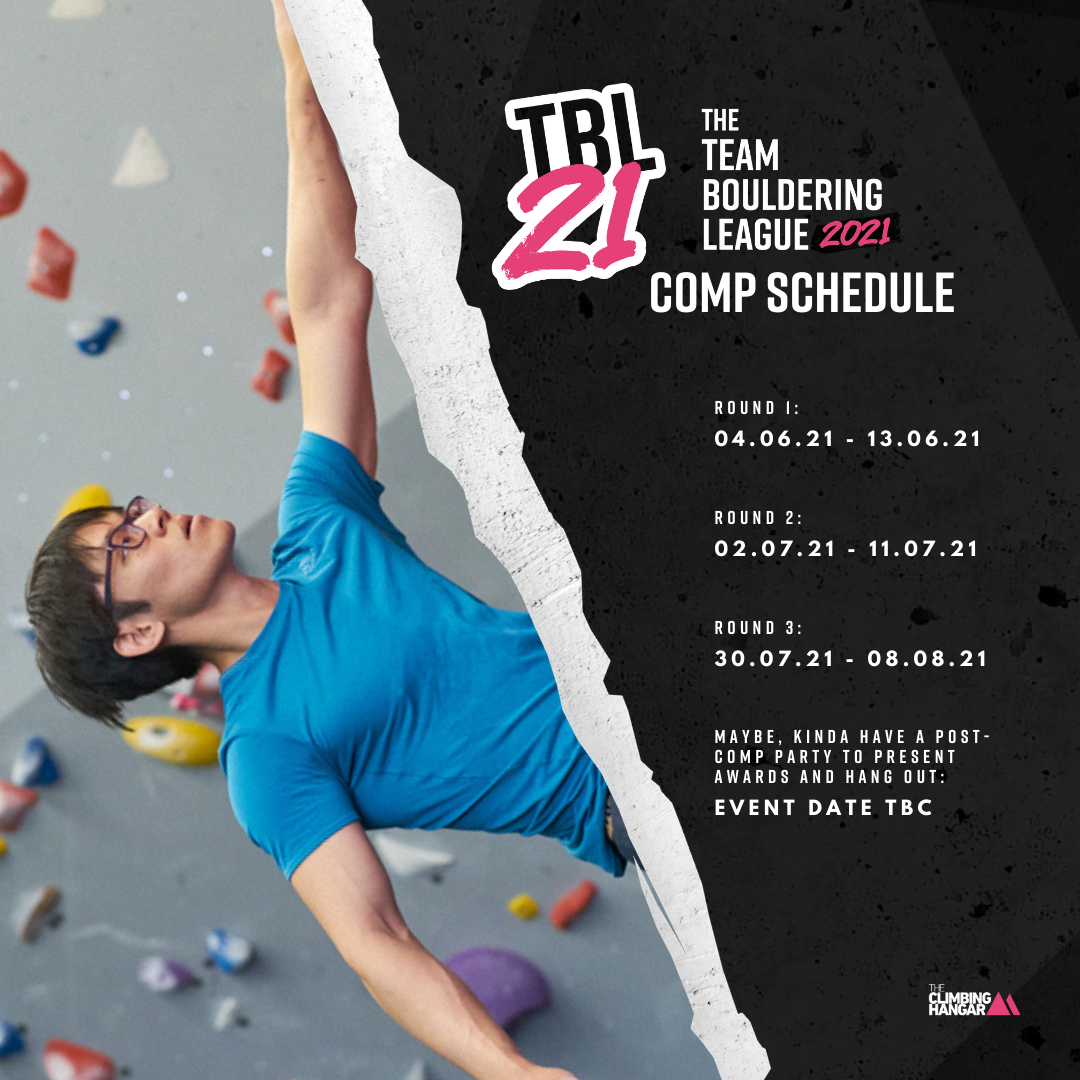 HOW DOES IT WORK
First, you pull together a team of your mates and purchase a Team Scorecard. You'll provide a Team Name, which we'll register on the competition database.
Next, You climb the comp set and submit your scores online at scorecard.info. Your teammates do the same. Each member of the team will need to register on the website (this is free) and then select their team from a list to enter their score.
The team with best average score wins the round and adds to their overall total.
You don't have to climb at the same time as your teammates, and you can climb the set as many times as you want before the deadline for the round. There are no individual prizes, so share beta, keep each other psyched and most importantly… have some fun.
At the end of every round, there'll be a prize for the winning team in each category, and the overall comp winners will receive an exclusive TBL winners t-shirt that won't be available anywhere else.
Teams must have 2-6 members, but only one scorecard must be purchased per team. Scorecards cost £5 per round, or £10 for all three when you buy before 4 June 2021.
No mates? No problem. We can help you find other free players at your Hangar to buddy up with. Simply speak to a member of the crew, or contact us via social media.
BUYING A TEAM SCORECARD
A scorecard costs £5 per team, per round. Only one team member needs to purchase the scorecard.
Select the round you wish to purchase or the limited time only three round bundle (3 rounds for the price of 2 before 4 June 2021).
Add the correct number of participants for your team. IT WON'T AFFECT THE COST.
Provide a team name, and the details for each player in the team.
Under 14's do not need to purchase this product. We will register you for free when you visit to take part in the comp.
So assemble your team, then hit the link for your Hangar venue below and join the fun.
SPECIAL OFFER MULTI-BUY DEAL
Purchase a scorecard for all three rounds before 4 June 2021 and we'll give you the third round for free. That's £10 for all three rounds when you buy them up front. (Usually £5 per round)
What happens after I buy a team scorecard?
This competition is powered by Vertical Life at https://www.scorecard.info.
Every team who purchases a scorecard from the Climbing Hangar is added to the Vertical Life database for the comp.
To submit your individual scores to your team, every player will need to register with Vertical Life, at https://www.scorecard.info. It's free.
When uploading your scores to the comp, you'll select your team from a pre-loaded list of options.
You'll need to purchase your scorecard and provide your team details, so that we can add the team to the list. If you haven't bought a scorecard you won't be on the list.
UNDER 14's: you don't need to buy a scorecard. It's free to play. Simply speak to a coach or a member of the Hangar crew and pass on the details for your team. We'll add you to the system.
If you're unsure what any of this means, don't hesitate to speak to a member of the crew at your local Hangar or get in touch via the link below:
BOOK A PRACTICE SESSION
Round one of the TBL launches on 4 June 2021. In the meantime, why not book a practice climb or two, so you're ready for action?
It's just a bit of fun, but we all know what happens when you fail to prepare, eh?