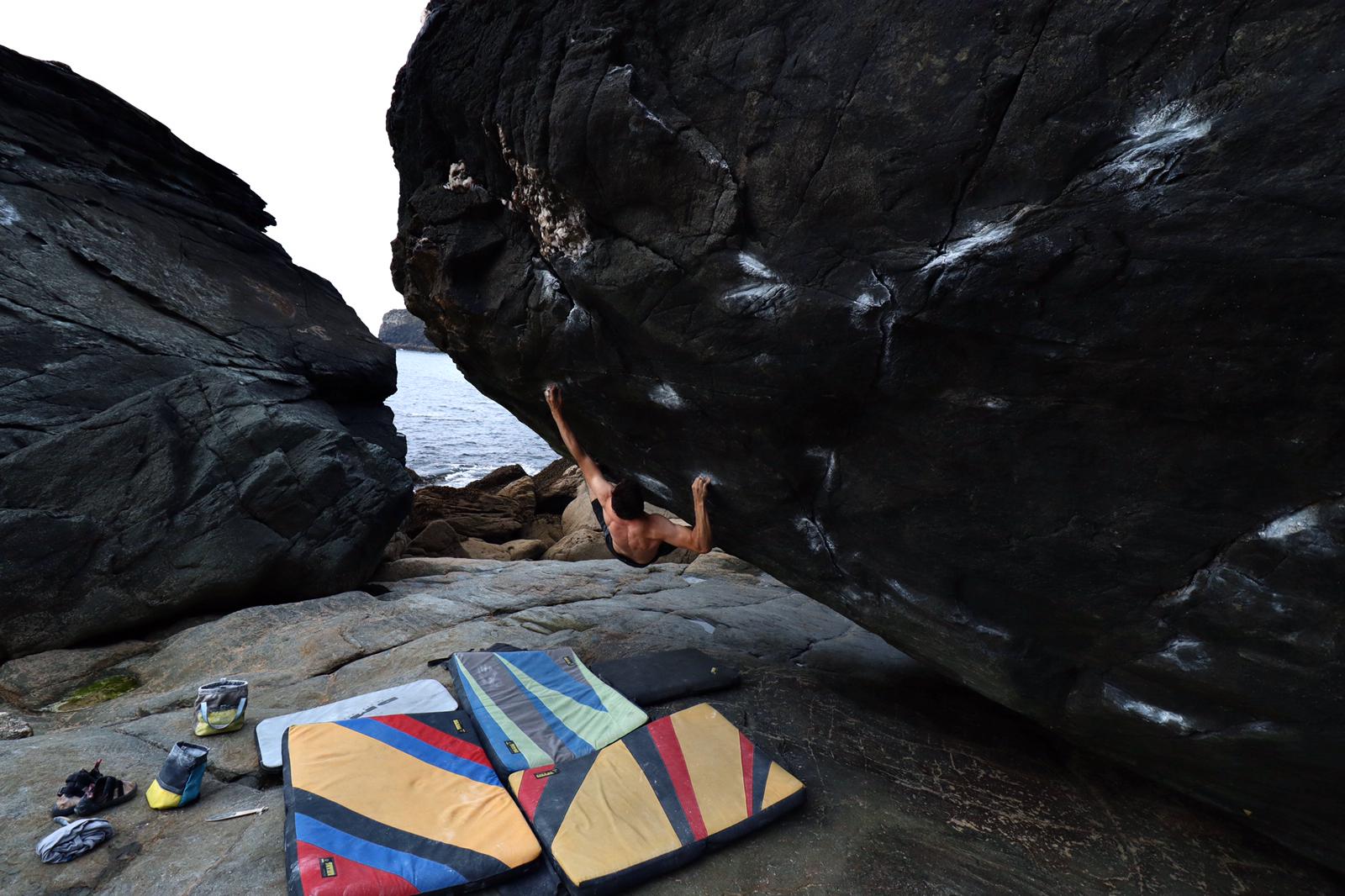 Does size matter?
Yes it does, but bigger isn't necessarily better…
Let's break boulder pad size in three categories:
- Thickness
- Fall zone area
- Weight
Thickness
The thickness of your pad matters, but even more important is what you're packing (that is, how good the foam is and how it's layered).
There are two main types of foam, closed-cell and open-cell. The harder closed-cell foam stops you from hitting the floor through the pad (aka 'bottoming out'), whereas the soft open-cell foam cushions your fall. Most pads have at least one layer of each, some even feature a third layer of harder foam for added protection on particularly big falls.
Ideally your first pad will be an all-rounder, so anything from 10 – 13 cm thick with two layers of foam should be enough for your needs. Foam quality is important for durability but it's hard to tell until your pad has seen a few sessions. Renting out a well-used pad or having a jump about on your mate's pad is a good well to test how well it will age.
Fall zone area
This is the space that your pad takes up on the ground. Bigger is always better but you're limited by what you can transport so aim for the biggest fall zone that fits into your mode of transport.
To give a more efficient folded size, some brands make pads that fold in thirds so that you can get even more fall zone area into the boot of your car.
Weight
A heavy pad is usually filled with higher quality foam, but the best foam in the world won't help you if you can't be bothered to carry it to the crag. A lighter pad will do you well if you're keen to visit esoteric locations or mountain boulders. If you're never going to walk further than 5 minutes to the crag, weight may not be a priority.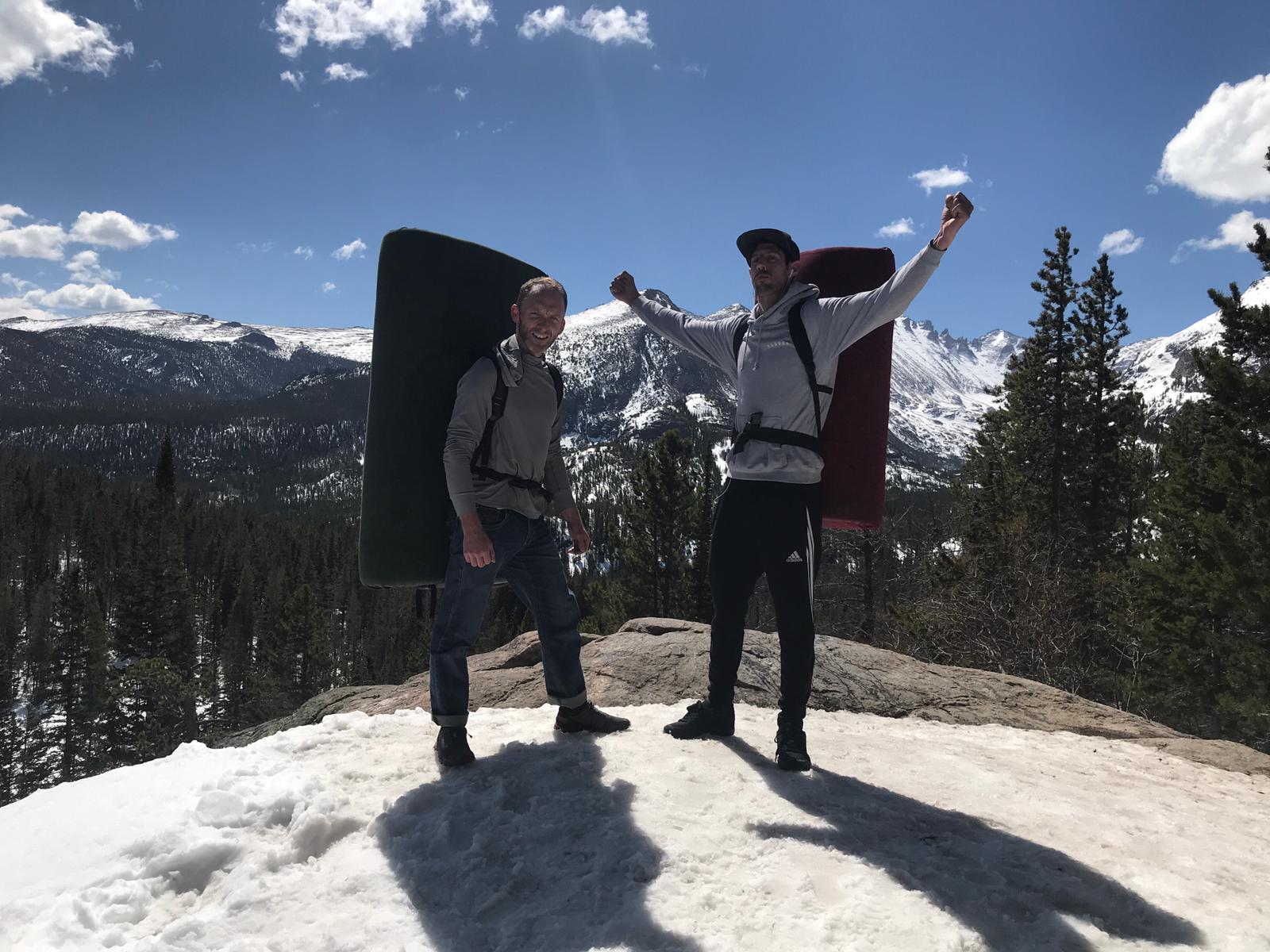 If in doubt, ask yourself this…
- Will it fit in my car/on the train/on the bus?
- Is it light enough to carry to the crag?
- Is it thick and supportive enough to protect my fall?
Fold: taco or hinge?
Bouldering pads are designed to fold in half so that you can transport them more easily. There are different styles of fold, the most common being hinge and taco.
Hinge pads are made of two separate sheets of foam that they fold flat in half so they're durable and easy to store. The downside? The hinge itself is a dead spot in protection, in fact the pad can fold around you if you fall on the hinge. Brands are always looking for ways to overcome this, so it isn't always a huge issue.
Taco pads are made of one sheet of foam which you fold to carry. There's no hinge (and thus no dead space) in the middle of the pad, so some climbers find them safer. However, the foam in taco pads degrades quicker where you fold it and they must be stored open to prevent further damage to the foam. Over time, your taco pad may develop a permanent bend.
Our verdict: hinge pads are neater and more convenient, but taco pads do not have any dead spots.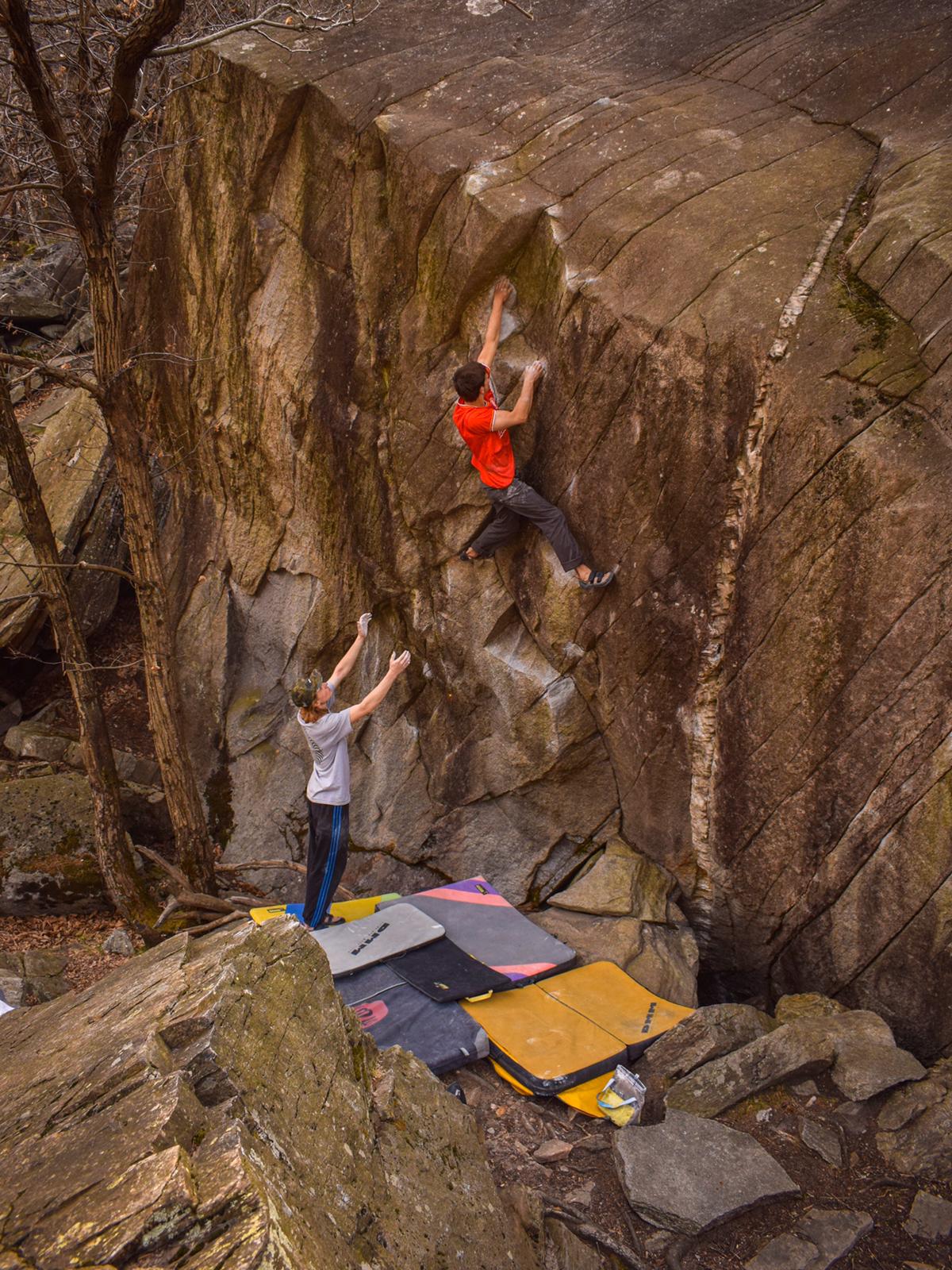 Carry system
How do you get your bouldering pad to the crag? Hopefully comfortably, but this all depends on what kind of carry system it has.
Backpack straps are the most convenient for long walk-ins (you can stuff your bag of kit inside your pad), so try it on before you make a purchase. Detachable straps can come in handy but check that they're secure enough to stay attached for the walk-in!
In addition, small side handles are good for moving a pad around when spotting; single shoulder straps can be looped around another pad so that you can carry two.
Extra features
Some pads are made by their features (or a lack thereof, for those who appreciate simplicity). These might include:
- Rubberised outer fabric to prevent slipping,
- covers to keep your rucksack straps clean,
- zip sides for changing the shape of your fall zone,
- pockets for storing valuables,
- built-in mats for cleaning your shoes (Moon have cleverly combined this with a rucksack
strap cover on most of their pads),
- the brand's ethics – SNAP. pads are all made from recycled materials, which we really love.
Features sure are exciting, but don't let that distract you from working out whether it's actually useful or just over-engineered!
So to sum up…
- Is it thick and large enough to protect your fall zone adequately?
- Does it fit in your car/your friend's car/on public transport?
- Does it fit in your house/bedroom?
- Taco or hinge fold?
- Can you carry it to the crag comfortably?
- What extra features are important to you?
After more advice? Chat to one of the Hangar crew about bouldering pads or try a few out in the
Hangar shop to get a feel for what works.
Sign up for email updates
Never miss the latest news and special offers from your local Climbing Hangar.
We regularly host competitions and social events for climbers of all ability levels and we'll let you know about them before anybody else. Plus, we'll keep you up to date with the latest new offerings from our coffee shop and retail store and send you links to fun and informative articles and videos as they drop on our website and social channels.