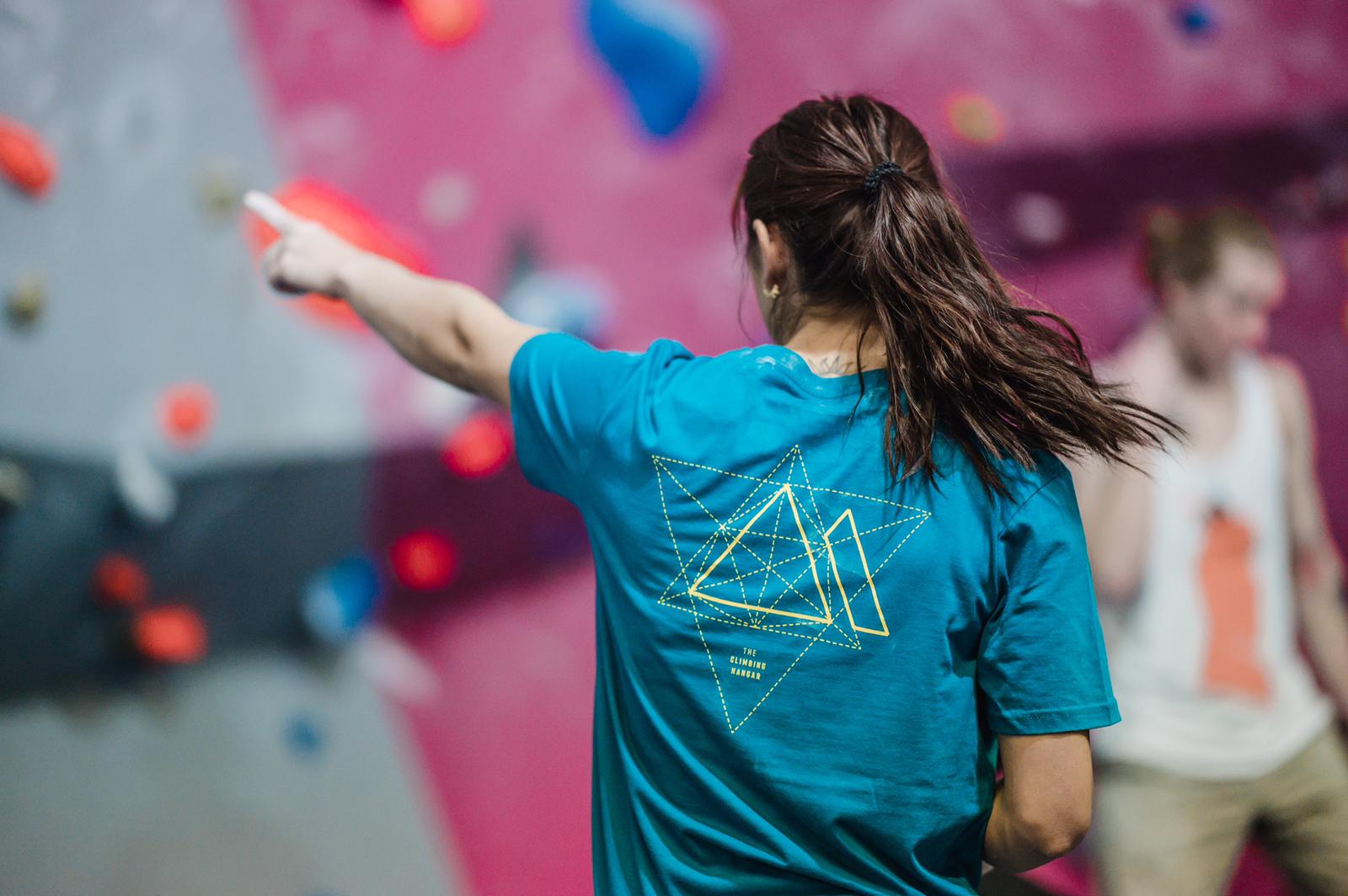 The Hangar has printed tees since its humble beginnings. You quite often see them down at the wall - and sometimes at the crag - each variation harking back to a different era in Hangar history. So why make a big song and dance about this new line?
As a company, we're constantly trying to better ourselves and improve upon what we offer our customers, our crew and the community, which meant the manufacture of our clothing range needed to shift in a more sustainable direction.
From ethically sourced fabric and water-based paint, to slavery free manufacturing, we sought to bring our new clothing range to life without making the world worse for anybody else. But let's face it, we could be as ethical as we wanted, and if the designs of our range weren't up to scratch it wouldn't matter. Our aim was to bring something to the table that looked great and fit our customer's lifestyles.
We talk to the team behind the new range to discuss their ideas and inspirations for the all new Hangar clothing.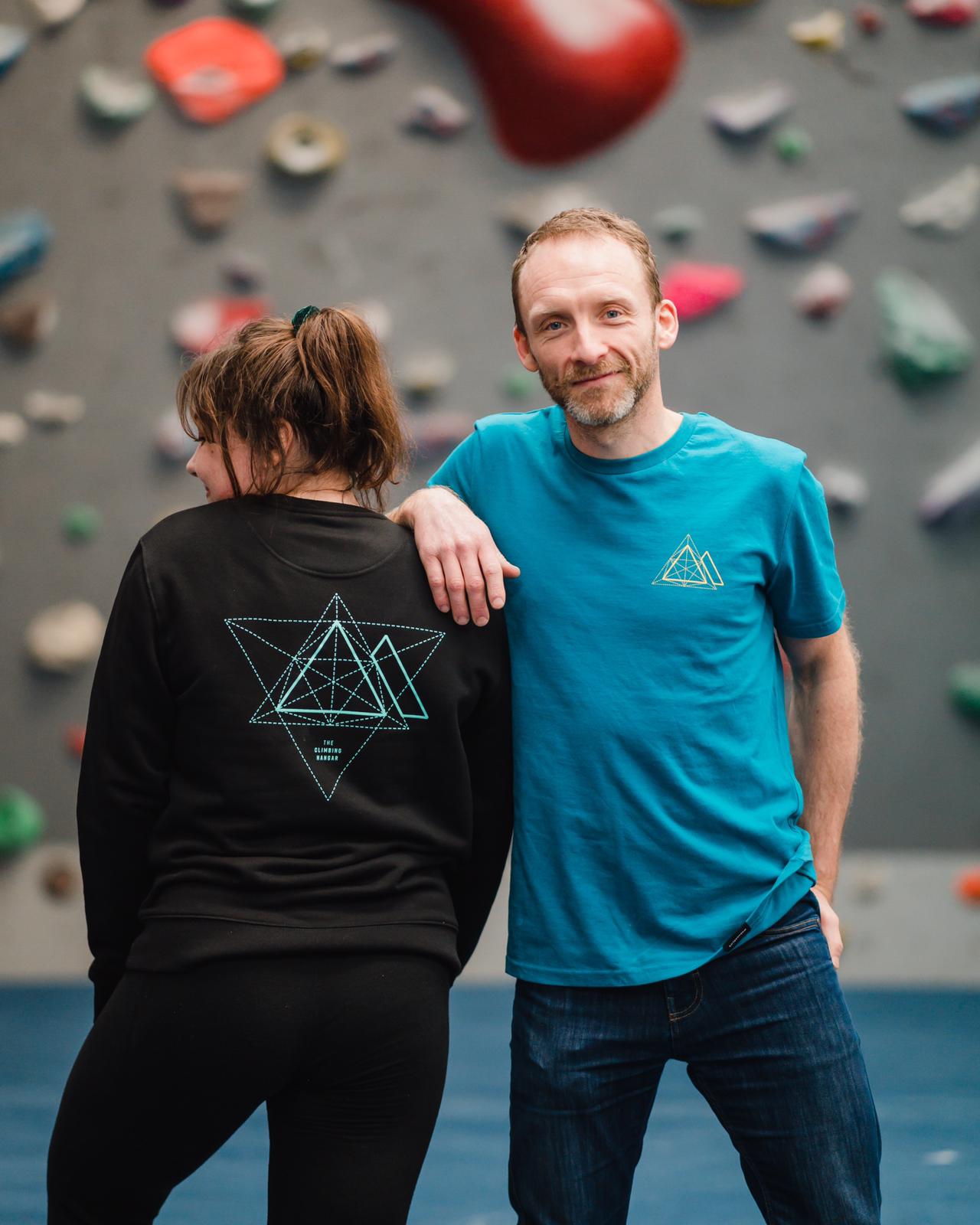 (Cat and Ged are rocking items from the Origins line)
The Climbing Hangar clothing range explained
The range falls into three lines:
Origins is minimalist, suggesting your climbing alter ego rather than shout 'I'M A CLIMBER' from the rooftops. "The triangle represents the different elements that make up the Hangar and how they're connected: community, transparency, people, etcetera…' explained Kerrie, graphic designer and Liverpool Hangar regular behind the geometric design.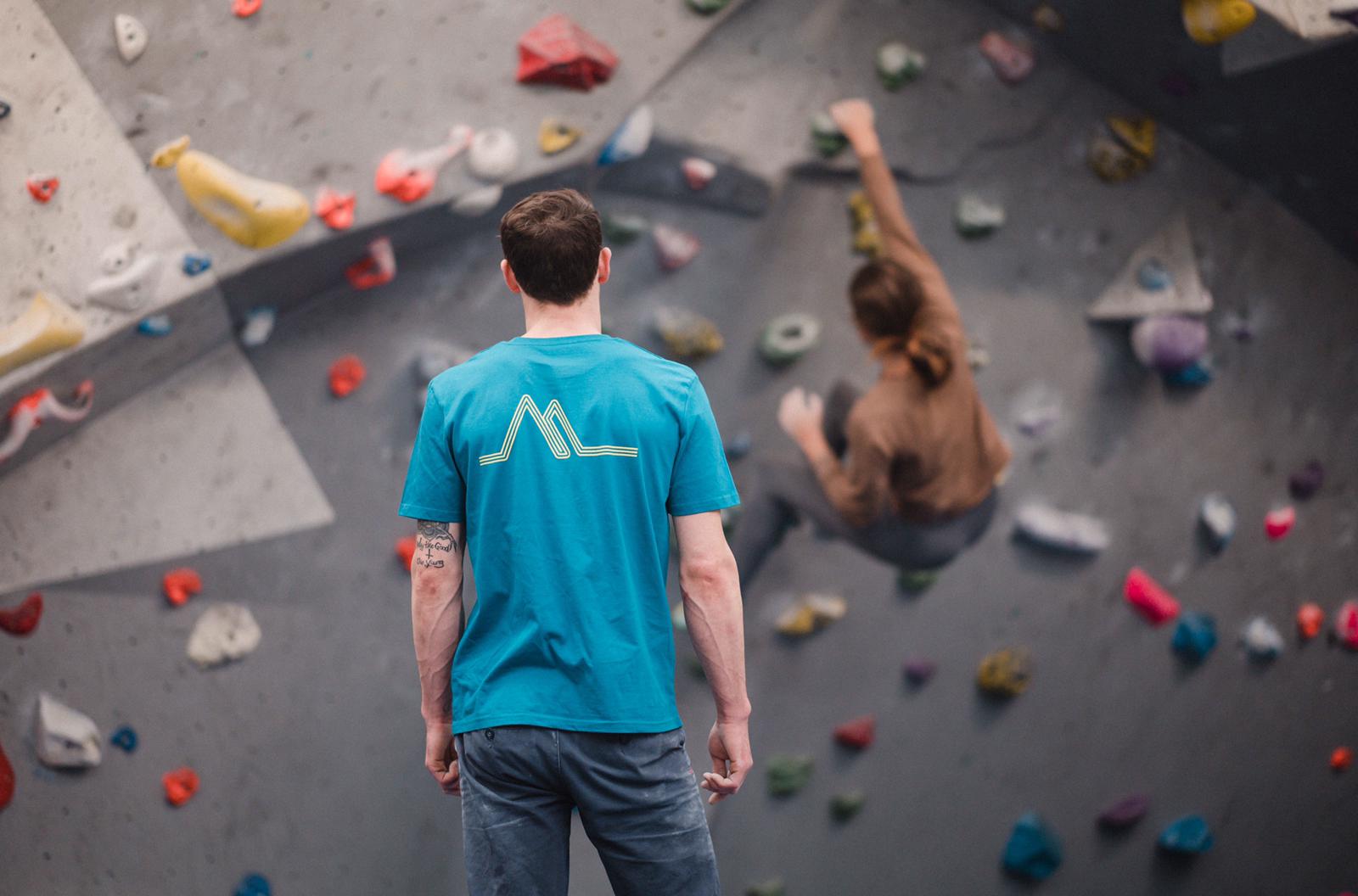 (Dom scopes out his next climb in one of our Flatline tees)
Flatline is a more retro take on our logo, again minimalist, but recognisable to those who know. "We wanted to create things that people would wear away from the wall as well – on a hike with friends or to a meal. It would be a part of their wardrobe, not just something they wear to the Hangar".
Then thirdly, you have our limited runs, which will drop throughout the year in very small numbers, so that we can try different things and keep our customer guessing.
Our first limited run is On The Wall. Some brands think their customers should live their lives "off the wall", but we prefer life on it, and we think our customers to too.
"Think about what makes the Hangar exciting: it's the people" resolved Hangar Head Honcho, Ged, over the phone "We might not be able to do anything that hasn't been done before when it comes to apparel, but what we can do is make our customers part of the process so that we can capture the uniqueness of each Hangar community and create a space for co-authorship".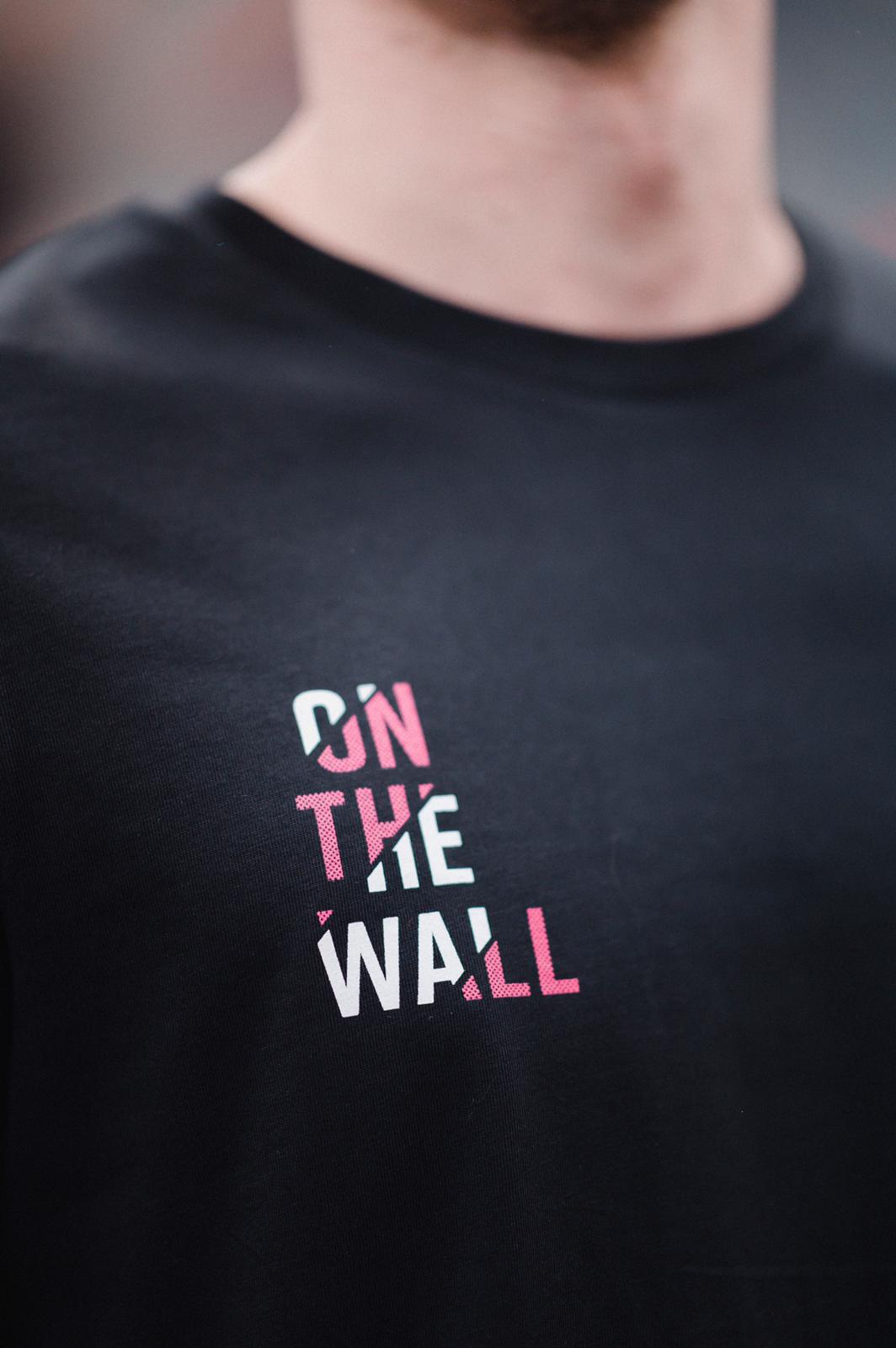 In the months ahead, we'll open the floor to help customers collaborate on future limited run designs. The people who make the Hangar what it is, so we want them to help us shape the space we share. The proceeds from each limited run will also contribute directly to a local charitable cause.
So how does all this make us happier, healthier and better connected?
Environmental/sustainable
When we spoke to the Hangar community about what they valued, sustainability was at the top of the list.
We source our clothing from Stella Stanley, who set the benchmark in ethical production and quality clothing (the cotton is just so so soft!). Our garments use 100% organic cotton or recycled polyester and are GOTS certified. This means our chain of production is completely transparent from harvesting to the point of sale; we can ensure this chain is fair to people who are part of it and that no GMOs, chemicals nor banned toxic substances are used throughout.
Designs led by the Hangar community
"If all we're doing is printing the same things on some different clothing it just doesn't really feel like we've exploited the powers of our imagination or creativity", Ged explained, which is why he tasked Kerrie with coming up with new designs. Kerrie explains how the Hangar community was essential to the process:
"When we first started, everyone had a different idea of what they wanted the range to be – fashion is just so personal. I started by sitting in the Liverpool Hangar and looking at what people wore - what colours, graphics and if they had lots of writing on them. I do a lot of hiking, so I began looking around when I was out too. When we had established what our customers liked to wear, the direction for our designs was set.
The next stage was the focus group with the Liverpool crew, we talked about what they liked in clothing and they fed back on which colours and styles they would like to see in the new range. It all came from the Hangar community as a whole, not just a select team in the office."
As for the limited run designs which will follow, Kerrie is excited to see what ideas Hangar customers put forward: "It's so open, every creative is going to come back with their own interpretation – it'll be interesting to see what comes back!"
A catalyst for conversation
The limited range is our way of letting Hangar customers create something that will become part of our culture. As Ged explains, "it may feel superficial, but each limited run allows somebody to create something that will become part of our culture, they'll see a small amount of it everywhere.
I like to think that if you see the dude or dudette who designed your t-shirt, you might go up to them and say 'oh my god I've bought one of your things'. It's opening up the possibility for conversations with people you may not have spoken to before".
Enriching the community
Part of the Hangar's mission is to enrich the local community, giving something back to the local community. That's why the long term aim of future limited runs is to contribute a proportion of profit to local good causes.
Ged is keen that helping people becomes part of the culture at the Hangar too: "everything single Hangar is supposed to go into its community, and integrate and benefit the place, we're not just trying to parachute in business units to do a bit of trade. We're trying to create something that, in so far as we can allow it to do so, infuses with and is informed by the community it's in. So Hangar Plymouth should never be like Hangar Liverpool, they should reflect the people that make it."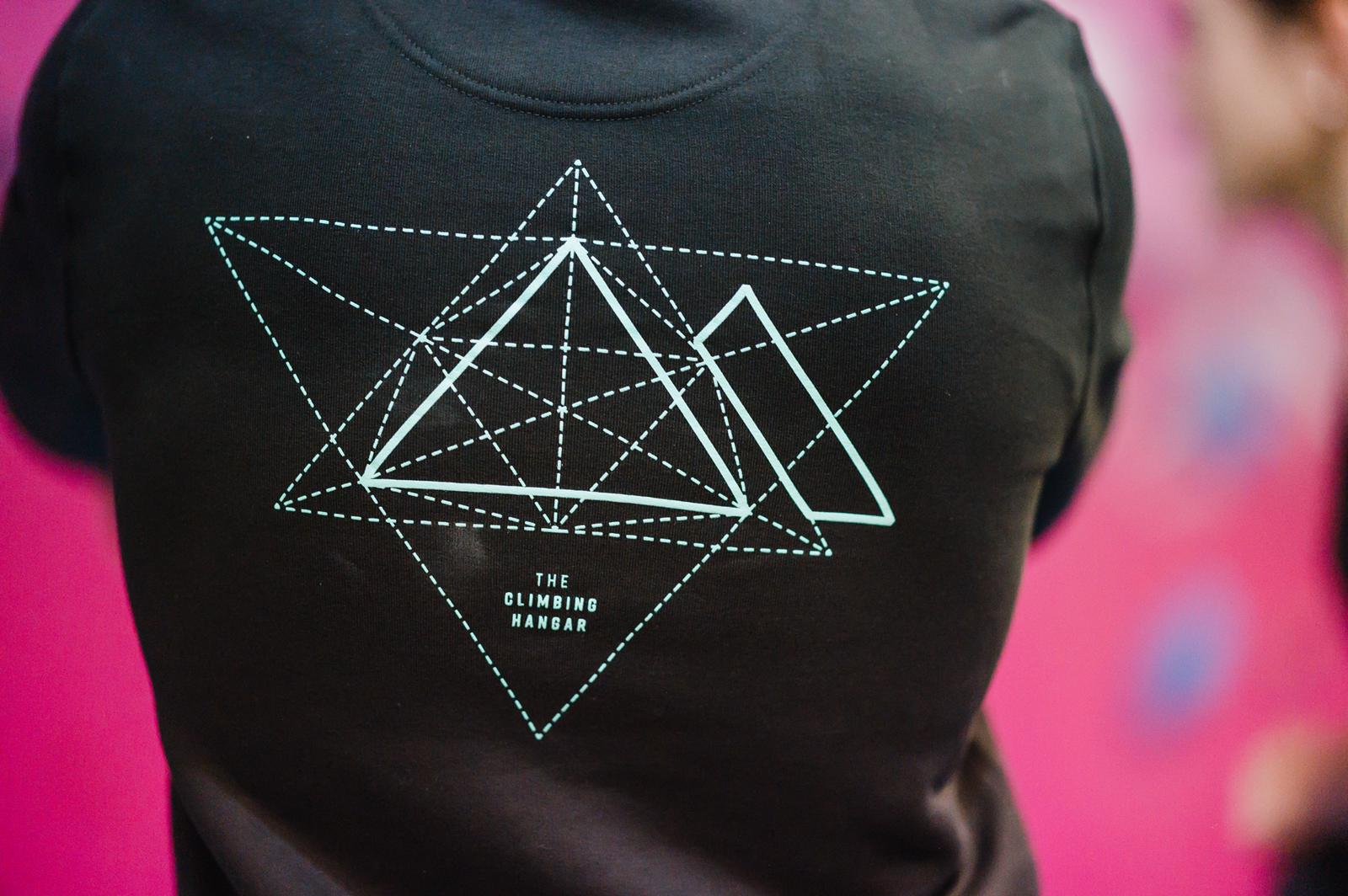 Still don't believe us? You'll have to see for yourself!
Visit our shop to browse the range and get connected.
FIND OUT MORE