Dave's been climbing for the last six of his 32 years and currently climbs at around V6. When he's not on the walls you can find him running grudgingly, mucking about on Welsh mountains or scuba diving somewhere warm.
How and when did you get in to climbing?
I got to try it once during the Duke of Edinburgh award scheme but never got another go. Several years later I found a friend who was interested and we went to Awesome Walls Climbing Centre. We had a lot of fun.
Once a friend suggested we try The Hangar. I saw how much more relaxed and social things become when people aren't tied together and focusing on a rope, and how many more bouldering routes you can fit into a space, I was hooked. I love the physical side of it but really enjoy the problem solving and the little adrenaline rush.  It feels like solving a 3D jigsaw puzzle, mixed with some good stretchy yoga; physical but strangely calming and Zen too.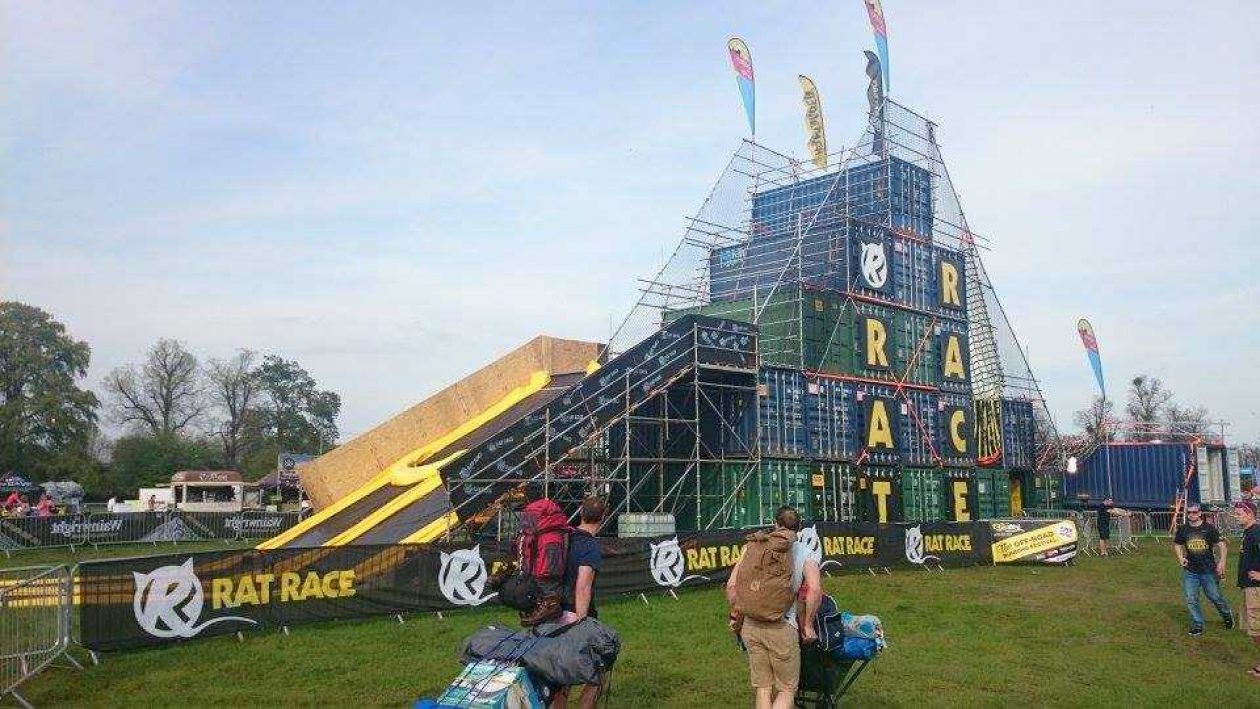 You've entered a few obstacle races. How did you start?
A couple of years ago I ran my first obstacle course race (OCR), I'm not the best runner but the obstacles looked like a lot of fun; like an adult version of a kids' soft play centre.  I didn't think anything looked impossible, mostly thanks to my bouldering experience. Plus I rationalised that you only need to run half a mile or less at a time to get to the next obstacle!
I did ok at the running (which was mostly slow jogging or walking). But I nailed the obstacles. 
It felt a lot like climbing; the event didn't feel competitive and it attracted a similarly great crowd. Everyone was really positive and supportive which made for a fantastic atmosphere. 
And, just like climbing, the moment I was finished I was thinking about what I could do better next time (obviously the running!).
What makes Rat Race special?
Once you're in to OCR's you become aware that there are way more brands and way more events than you realised. These things are happening all over the country, it's a really fast growing, young sport.
I wanted to do better and there was so much to try. Bigger events, bigger obstacles, bigger challenges, awesome people... Yeah, I was hooked, just like climbing.

Last year I volunteered for Rat Race's biggest obstacle course race, their 'Dirty weekend'. This is a 20 mile course with 200 obstacles, some of which are ridiculously huge. Think a pyramid of shipping containers stacked on top of each other five high or a massive treehouse type affair called Ewok Village.
I didn't think I was ready to take part, so I volunteered my services to help run the event (Rat Race relies on volunteers who are usually rewarded with discounted tickets or merchandise). I had loads of fun and the day was full of positivity, smiles, high fives and hugs. But I didn't get to play on any of the obstacles.
So I went home and booked a ticket for this year's event straight away. I had to go back and conquer the course. I had a year to train. And what can't you do in a year?
Thanks to climbing the obstacles hold no fear for me, but I definitely need to work on the running!
How's your climbing helping you to prepare for the event?
Climbing develops your ability to move in different ways, using your whole body, lifting your own weight, stretching, twisting and jumping for those dynos!
It also changes the way you look at obstacles. Some people might come to a 9ft wall and look completely lost, but a climber will get that weird look on their face, scan it for the cracks and creases and texture (can I smear off that?) and tackle it. It helps put you in a problem solving mindset – you just need to translate that from the wall to a set of inclined monkey bars 12 feet above a pit of muddy water.
Climbing is also great for conditioning a good all over, head to toe level of fitness so you feel prepared for anything. OCRs don't require repetitive movement. You could be climbing over walls, crawling under nets/though tunnels, climbing up a fireman's pole, swinging out on a trapeze to try and ring a bell hanging out in front of you. Climbing prepares you for that level of agility.
What obstacles have you already overcome as a result of entering, training or competing in events like this?
Literal obstacles I've overcome include wading up rapids in a kayaking / white water sports centre on the river Tees, then riding down them on my bum, jumping off a pirate ship or a personal highlight; running up a 15ft quarter pipe, like the warped wall on ninja warrior and managing to grab the top and haul myself over without help. That was in my first event and it felt fantastic.
Psychologically? Running further than I ever thought I would because I was caught up in how much fun I was having. Learning that you can go a lot further and do a lot more than you thought possible and seeing all kinds of people of all ages out on course doing the same.   
What's your ultimate challenge?
This years Rat Race Dirty Weekend will be the biggest/longest event I've done yet. It includes the world's longest set of monkey bars, 130meters. That's a personal challenge I'm really looking forward to. Maybe climbing will mean I've got the grip strength to stay on them end to end but who knows.
 
Apart from that, in this growing sport if you want to talk ultimate challenges I think it has to be World's Toughest Mudder. This takes place every year at the end of the Tough Mudder season in Las Vegas. They build their ultimate course and people see how many laps they can complete in 24 hours. It's a ridiculously high bar but if you're talking ultimates in Obstacle Course Races I can't think of one that beats it and maybe I'll be there someday.
Do you have an ultimate training tip?
It's the one that I know I really struggle with. Consistency. It doesn't matter what you do, whether it's just a small effort or if you're putting in hours. If you want to improve something it won't matter unless you're consistent. 
Everyone knows that after that first session you'll be sore. Really sore. But f you stick with it you'll only be half as sore the next time, and half again the next. If you leave too big a gap in between and you are effectively stopping and starting then you wont see real improvement and each time will hurt as much as the first. That's enough to make anyone quit.
-------------------------
Find out more about Rat Race and their schedule of awe inspiring evens via the Rat Race website. We'll be catching up with Dave after the race is run to see how he did. In the meantime, good luck!