Q&A Session with our routesetters
We got some of the big dogs of routesetting, Head of Climbing, Dan Knight and Regional Setting Manager, Mike Hart, to answer some of your questions on Instagram. Have a look at some of them below.
What's your favourite thing about route setting and why?
Dan: It's a combination of artistic creation, playing with movement and knowing that you are creating an experience for all the customers which will have them going through a range of emotions (mostly happy we hope).
Also it's got to be one of the best jobs out there.
Do you have a plan for grade and style for routes to be set before you start or just see what happens?
Dan: 9 times out of 10, I have some idea of what I want to create and the type of experience I want the climber to have - whether that's an emotional response, complexity in the climbing or engaging them in a move which feels unusual.
Other times, you'll be motivated by the holds and the idea evolves around the shapes.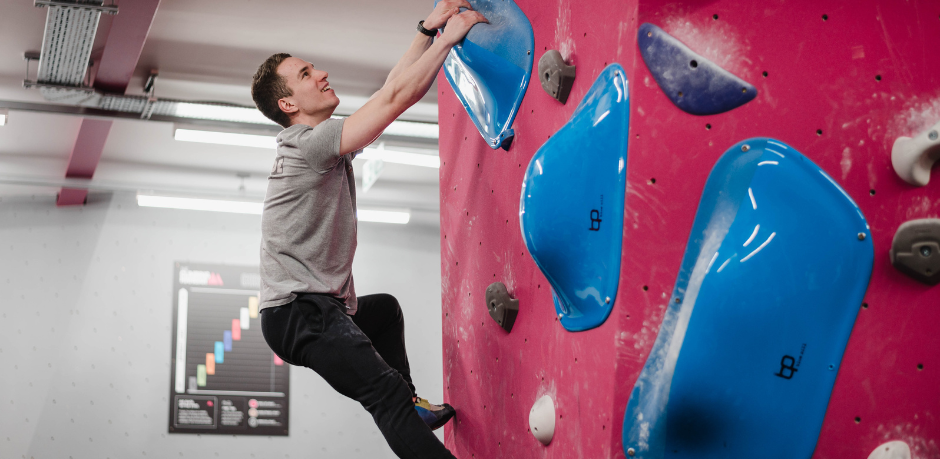 How do you plan out the routes and measure difficulty?
Mike: On the day, we plan a fair amount.
For example, we like to ensure each section wall has an array of difficulties on it so that there's something for everyone. For the climbs themselves, they're usually more inspired than planned.
Whether that's from a specific hold you like and build the climb around, a video you've seen on Instagram or a simple angle change. The more ways you can draw inspiration for your climb the better. Long term (for a standard weekly reset) there isn't any planning, other than which zone we're setting.
How much climbing experience do you need to start route setting?
Mike: Good question. There's no milestone to reach in order to start being a setter, however, the more experience the better I would say.
Being an 'advanced' climber is also not a prerequisite, however spending x amount of days per week testing climbs at your limit is obviously harder than testing below your limit.
What's your favourite colour
Dan: Black as it my favourite colour but for setting I would say Red is a mega colour.
Not too hard and not too easy.
More dynos?
Mike: We try to add in a couple per set, however it's always a balancing act as we find that dynos are a particularly marmite style.
How did you both get into Route setting?
Dan: I've been doing it for around 18 years. Started with my Dad at various walls in the south and the momentum carried on from there.
Mike: I've been at it for just short of a decade now...I think. For me, I was in the right place at the right time.
The management team at the time were doing the setting and it was clear that they were better suited elsewhere ;) Dan roped me into it and we've been working at it ever since.
Can we have a crack climb please?
Dan: We have the Wideboyz cracks at a few of our sites. We tend to set them as novelty problems at comps so keep your eyes peeled.
How do you do it? Do you have guidelines, measurements to follow etc? Seems like magic
Mike: We have self-imposed guidelines that's we've developed over time ourselves. An example would be no crimps on a grey or footholds on a green must be of a certain size. From a creative perspective, there's no guidelines or measurements... that's the fun of it:) We just make it all up haha.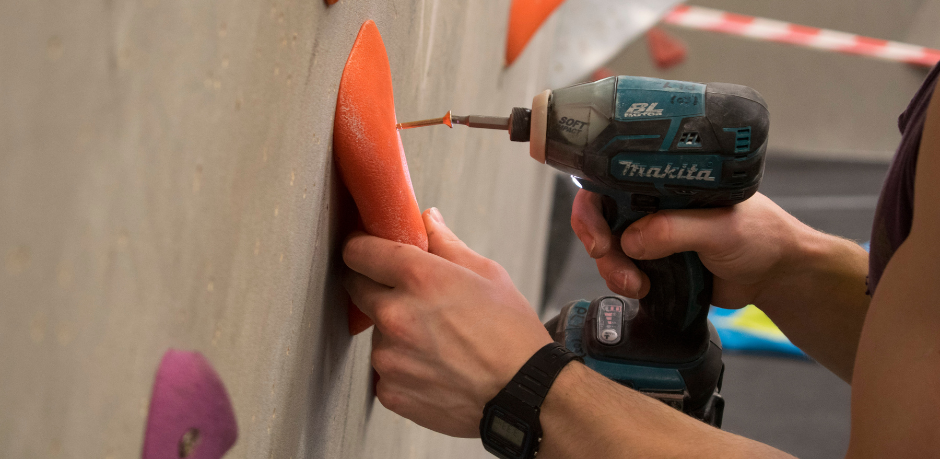 Can me have more jams?
Dan: I can provide Bonne Maman or Hartleys in all flavours. Strawberry is my fav.
Mike: I'd like to recommend the apricot Bonne Mamam. Fig is also decent.
How excited do you get when you get new holds??? 
Mike: It's like being a child in a sweet shop!
How many dimensions does DK climb in?
Dan: Only the 2D
Mike: (He's still not quite mastered the 2nd dimension yet)
Do the bouldering colour routes compare to the outdoor ratings i.e. 7a, 8c etc? How good are we really?
Mike: There is definitely a comparison to be made however the nature of grades as a whole is entirely subjective which is why we removed them from our centres. A V5 for one person can feel like V4 or V6 to someone else. I've tried V0s outside which were absolutely desperate to even get off the floor on - that's not the experience we're looking to provide to newcomers. Changing our V0s from what you'd find outside had a snowball effect where all the grades then become out of sync and we found that the system didn't reflect what we were trying to achieve in terms of accessibility. We've set up to V15 equivalent recently (TCH Sheffield cave) and there are regularly V11 (ish) climbs up, so I reckon we've got all the grades covered!
On avg, what % of climbs in a certain colour, after setting probably should be a different colour?
Dan: Good question - Our testing process is pretty thorough. Certainly before testing some climbs are wildly in the wrong colour but once we have spent some serious time testing they are normally all fairly on the mark. Our review session on the first night after testing allows us to see if any tweaks need to be made.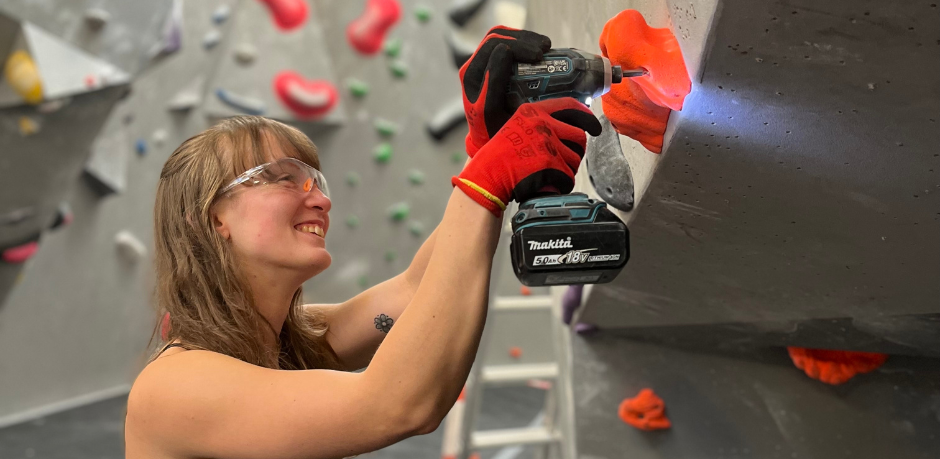 Can you get setters block like writer's block?
Dan: I think this can happen, especially if you're newer to setting or generally just having a slight slump in your own climbing. This is why it is important to have a solid setting team which you trust and can gain inspiration /help from.
Is there an overall balance you're looking to strike between old-style and new-style problems?
Mike: 100%. We're conscious that not everyone is a fan of every style, yet there is still a market for every style.
There are definite marmite styles that we'll set less of, but it's still important to make sure that those styles are represented to some degree. Not everyone wants to crank on a 2 finger pocket made in the 90s that Jerry once looked at, just like not everyone wants to do a triple paddle dyno on some Squadras. Balance is key!
Do you have a preferred indoor problem style?
Dan: Basic climbing that would translate quite well to outdoor power blocs.
Which is your favourite Hangar to set at?
Dan: I actually have no favourite for setting. They all have their own charm, hold selection and team to work with. I get psyched setting at every site.
Why do routsetters make climbs reachy for people who are 5ft 4, which is average female height?
Mike: I'm glad this one came up. It's a very complicated question and I'll try and keep the answer as short as possible. In our setting team, we have a broad range of heights for a specific reason - to height/span check the moves. We feel it's very important for us to do so in order to make climbing as inclusive as possible.
We have setters from 5'1 to 6'1, who all test the same climbs. Does someone who's 5'1 climb everything exactly the same as a 6'1 person? Of course not.
Climbers regularly have to adapt their style to better suit their physique. Part of the beauty of climbing is that no one will do the same climb exactly the same as anyone else, it's unique for everyone, even if only subtly. Something I come across fairly commonly is people tunnel-visioning one specific sequence, and that's often the only sequence they've tried. Perhaps they saw someone else complete it that way? They've approached me with concerns that the climb is reachy, I offer some beta that may suit them better and they find themselves at the top. This isn't always the case of course, but more often than not, it is. As an added note, I personally believe that taller climbers are disadvantaged more frequently than shorter climbers.
Is it as visually noticeable? No. Is it as restrictive as it is for shorter climbers? Perhaps not. But it's definitely not only shorter climbers who are at a disadvantage.
Take high-level competition climbers as an example...
The median average height of Tokyo Olympic male qualifiers is just over 5'9, and it's just over 5'4 for the females. I'm always happy to talk about this (and any other questions) if you see me!
Head coach at TCH Plymouth, Connor, has also done a great video explaining this point: Watch here.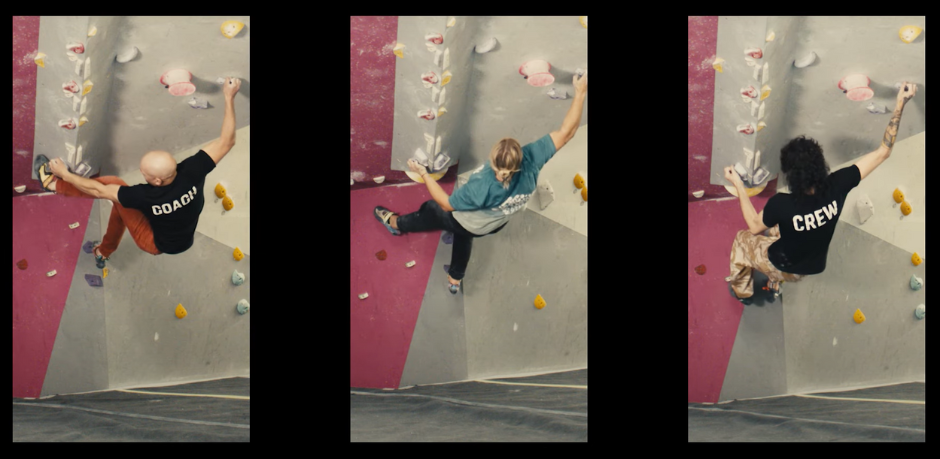 Do you guys do all the routes you set?
Dan: Yes, we expect all the moves of every climb to be completed during the testing sessions. We won't necessarily complete the hardest climbs from start to finish, but we will make sure all the moves work.
All the others we will complete in full to make sure it feels correct for the colour.
What's the hardest thing about route setting?
Mike: Staying injury free and having the energy/skin to test the harder climbs. But then I am getting older now...
How do you find setting on T-nut free walls? Would you recommend to other walls?
Dan: Personally I absolutely love it. 
Initially, when we first put it in place I wasn't sure, but now I find T-nuts slightly annoying. Having the ability to really fine-tweak the easiest climbs makes a big difference in getting them spot-on. It has its drawbacks but ultimately I really like it.
Would I recommend...not sure - it takes a lot of set-up work.
What grades are the colours at the hangar?
Mike: We've moved away from internationally recognised grading systems at the Hangar as they didn't properly reflect what we were trying to achieve. See a previous answer for more detail.
Is every routesetter tall?? Or do I need to work on my stretches?
Mike: On the contrary, most of us (at least at the Hangar) are on the shorter/average height side.
I personally reckon 5'9 is the sweet spot, but I might be bias...
How could I do some setting at my local Hangar?
Dan: Couple of options - look out for recruitment posts for your local site or secondly, we will be running taster sessions in the coming months for all to have a go.
I prefer balance routes with less handholds. Is this a style of climbing? & why do I love slabs?
Dan: Indeed - definitely a style and a very popular style. Mike is a master of it, myself not so much.
Slab climbing is like a marmite on toast - you either love it or hate it.