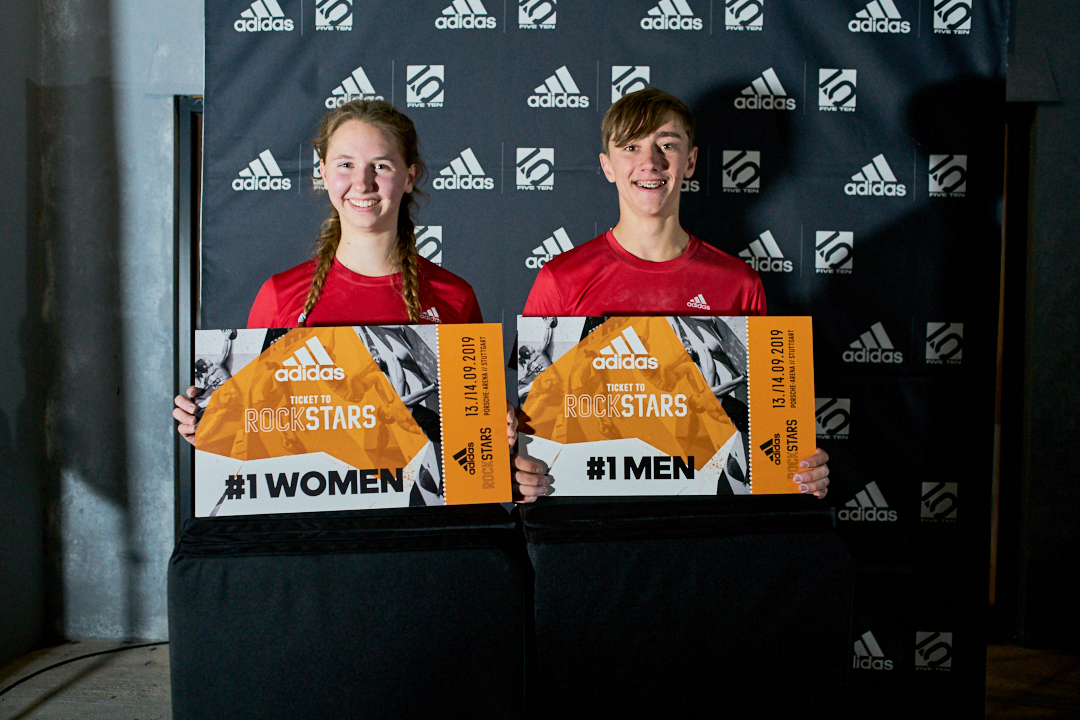 Laura Munro
Tell us about the route-setting at T2R Plymouth:
I absolutely loved the route setting at T2R. There was a large range of holds, including some volumes I'd never climbed on before. My favourite problem was a dyno to two juggy slopers with a powerful move to finish.
How are you preparing for the final in Stuttgart?
Well my main priority has been making sure that I don't get injured before the comp! I visited a few centres that I don't usually climb at and I did another competition in Gloucester as preparation.
How did you get into climbing?
The first time I went climbing was on a mobile tower whilst on holiday with my family. Then I joined the climbing club at my local leisure centre when I was 8 and never looked back :)
Do you climb outside and where is your favourite place to climb?
Definitely! My favourite place I've been sport climbing is Portland. I love being able to look out across the sea whilst climbing. For bouldering outside it has to be the beautiful forest of Fontainebleau. There are so many boulders all of different styles.
Joe Walmsley
Tell us about your day at T2R Plymouth:
My day at the T2R, Plymouth was amazing. It was a hard but fun and laid back comp with an amazing atmosphere.
What was your favourite part of the event?
My favourite part of the event was the actual competition itself. It was full of fun and challenging problems which is what I always look for in a competition.
What did you the think of the route-setting at the comp?
The route setting was world class at T2R, Plymouth. My favourite bloc was the blue number 30 as it challenged me the most and took me the most time to do.
Are you excited for the T2R Final in Stuttgart?
I am really looking forward to the T2R final in Stuttgart and cannot wait to compete against a stacked field but in a fun and relaxed environment.
How have you been preparing for the competition?
I've been training hard for the T2R final and getting plenty of practise on comp style blocs as well as pulling really hard on a 40 degree board so I'm ready for anything.
Tell us how you got into climbing:
I got into climbing when my parents signed me up at a small local wall.
Where is your favourite place to climb?
My favourite local crag is Ansteys Cove.
Finally, what's next for you after the T2R Final?
After the T2R final I have the European Youth Bouldering Championships in Brixen, Italy a week later.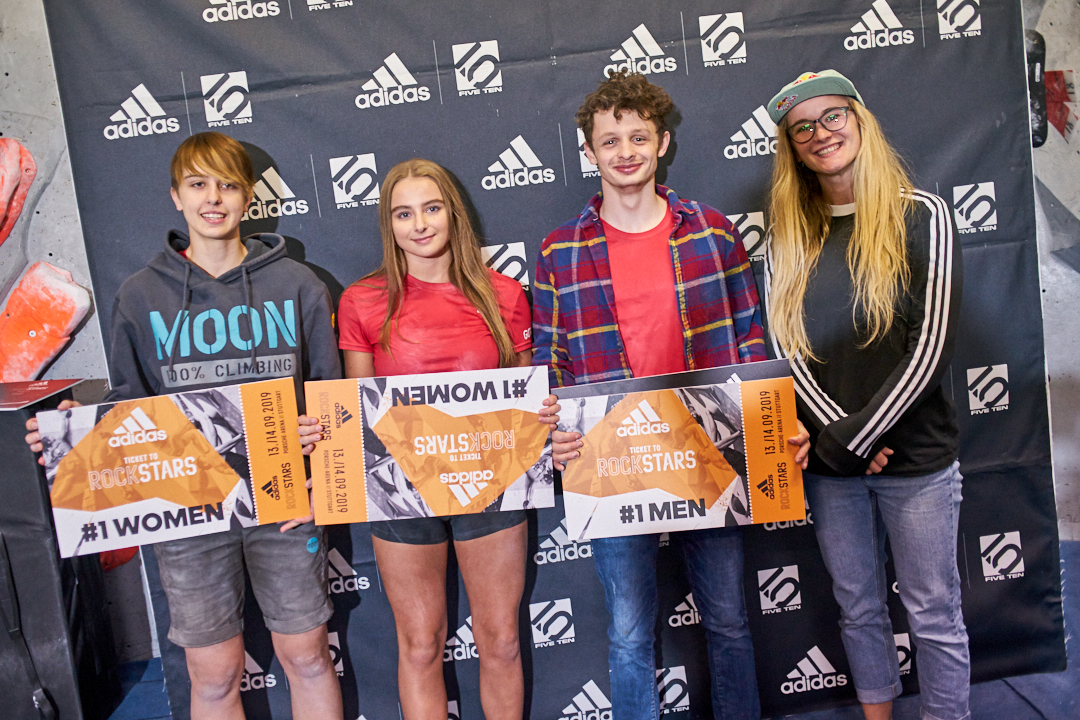 Pippa Watkin
Tell us about your day at T2R Liverpool:
I had an amazing day. It was non-stop fun from the get-go. The atmosphere was electric!
What was your favourite part of the event?
Definitely the incredible atmosphere! Everyone was so psyched and all cheering each other on!
Tell us about the route-setting and did you have a favourite bloc?
The routesetting was awesome! I loved the variety of styles and the element of problem solving. My favourite was probably problem 16, despite the many goes it took me to run along those volumes. I was super psyched to finally get it!
How excited are you to compete in the T2R Final in Stuttgart?
Mega excited!!! I have literally no words to describe how I'm feeling.
How are you preparing for the competition?
I only have limited time so I'm mostly just trying lots of different styles of boulders, so I'm hopefully prepared for whatever the setters throw at me
How did you get into climbing?
We were at a local leisure gym and my dad had a go on the small wall, and I really wanted a go, so he took me along to the climbing works where I scared him by climbing to the top despite being tiny at the time. So he then enrolled me in kids club at the foundry so I could climb as high as I wanted attached to a rope!
Do you climb outside and where is your favourite place to climb?
Outside climbing is not something I do regularly however I much prefer the style of rock abroad so tend to do a lot in the continent. My favourite place so far was probably Rodellar in Spain
Would you recommend climbing to other young women and why do you think it's so great?
Definitely! Climbing is a great sport for all ages and abilities! I think the best thing about climbing is that there's so many different forms e.g. Bouldering, lead, speed, indoor, outdoor, ice climbing, there's something for everyone at a suitable level for everyone
Tilly Vasic
Tell us about your day at T2R Liverpool:
I was really looking forward to the day, so many competitors the blocks looked good, lots of different styles different.  It was a long day and I was pretty tired at the end, and my fingers were pretty sore… although climskin seems to have done the job for me.
What was your favourite part of the event?
I love competing and testing myself against the very modern looking comp problems.  The setters had done a great job.  I also enjoyed meeting up with friends and working on the blocks. Also the atmosphere with the music, loads of climbers doing their best made it a special event…. the food was tasty too…
Are you excited to take part in the T2R Final in Stuttgart? 
Very Excited to be part of T2R experience, it's such a unique and amazing opportunity to be part of such a big event and sharing that experience with the best climbers in the world… not many sports where you get to rub shoulders with the best in the business. 
How are you preparing for the competition?
I have a great coach in Gill Peet form Boulder UK and so she makes sure I have plenty to do to get stronger an improve my technique, but I will be searching out more "compy" blocks and practice the different and awkward moves. 
How did you get into climbing?
I went to the climbing wall with my dad and sister when I was 3, and its been part of my life ever since. Had a bit of time doing gymnastics when I was about 9 but climbing has always been my passion, couldn't imagine not having climbing in my life, and I get lots of support from my parents, Moon Climbing and my coach to help me reach my goals.
Do you climb outside and where is your favourite place to climb?
I don't climb outside as much as I'd like to, seem to spend my time training and competing. 
Would you recommend climbing to other young people and why do you think it's so great? 
Climbing is a lot of fun, and you can start it no matter who you are.  It's great for getting fit, it uses lots of muscle groups,  you stretch and get more flexible just by having fun. There is always a challenge ahead for you, you can just get better or get into comps, which are not just fun but friendly.  So many places to go and you get lots of support and help at the walls. 
What is your single, favourite thing about climbing?
There just isn't one single thing… that's what makes it so special
Alex Waterhouse
Tell us about your day at T2R Liverpool:
This was actually a pretty unique comp day for me. I've been kitting out a van to travel and climb in over the winter, and had planned to finish it the night before T2R Liverpool. Unfortunately I managed to underestimate how long the final steps would take, and ended up leaving home at 7am. I'm from the South West, so to make it for the 4pm start time with a 6 hour drive to do meant I only grabbed 3 hours sleep on the way. Not the best way to start off the day! I arrived as climbing started and let my warmup take me into my try-hard mindset, then let rip on the comp blocs.
What was your favourite part of the event?
The atmosphere was awesome, pumping music and really psyched competitors. Everyone was super supportive, and people were so happy for each other when they made it to the top. Comps like this where the focus is fun are always great to attend, and the Hangar and Adidas teams put together a perfect day. 
You won the ticket to the grand final by a single flash, against really strong competition, how do you deal with the pressure of knowing that your climb has to be near perfect?
The ability to flash boulders under pressure is something I've been working on a lot recently. It helps to just climb the boulders without expectation but with full focus on topping every time. There's no point putting in an attempt just to learn how to do it for next time! But at the end of the day you can't force a good performance, you just have to trust that the training you've put in is enough and let that speak for itself when you pull onto the blocs. 
How are you preparing for Stuttgart?
Stuttgart is coming at the end of a pretty intense training cycle, and for the last few months I have been putting in more time than ever into my climbing. I have been putting 8 hour sessions in 5 or 6 times a week to prepare for the British Lead Climbing Championship, but the focus has been on strength and power so I am feeling ready for Stuttgart. The volume is reducing now as I rest up to prepare for the comps, but I'm still training hard!
How did you get into climbing?
I started climbing through school when I was 11. After a term of after school sessions, my Dad bought me a chalk bag for Christmas and has regretted it ever since. We started climbing together a few times a week, and then I entered my first competition after 3 months of climbing. Over the next few years, we spent most weekends traveling to competitions across the UK and Europe. 
Do you climb outside and where is your favourite place to climb?
I love climbing outside, and I make trips any time my schedule allows it. I think my favourite place to climb has to be a Red Rock in Nevada, USA. The rock quality is immaculate, and the perfect sandstone lends itself to some impressive lines. The walks can be pretty long, but the boulders are a pretty great reward! 
Would you recommend climbing to other young people and why do you think it's so great? 
Climbing is the perfect distillation of real life: you're given a problem and you have to figure out how to solve it. It's taught me lessons about hard work, creative thinking and failure, and has really helped shape the person that I am today. It's also allowed me to find a community of really awesome people who are passionate about the same thing as me. Wherever I am in the world, as long as there are climbers, I can always find a place that I'm comfortable.
You've climbed in a couple of The Climbing Hangar's now… what are your thoughts on the gym? 
I've been training regularly at the Plymouth Hangar for a good few months now and am really impressed by the facility. It has everything I need to train to be the best I can be and that's a new experience in the South West. The route setting is some of the best in the country, the staff are awesome and the culture they are creating feels really welcoming. I spend a lot of my time there, so I'm glad to say it's one of the best walls I've climbed at in the UK.
Sign up for email updates below and you'll never miss the latest news and special offers from your local Climbing Hangar.
We regularly host competitions and social events for climbers of all ability levels and we'll let you know about them before anybody else. Plus, we'll keep you up to date with the latest new offerings from our coffee shop and retail store and send you links to fun and informative articles and videos as they drop on our website and social channels.