Join our Free Women's Routesetting Workshop at The Climbing Hangar
We're excited to announce that we'll be hosting a free women's routesetting workshop at The Climbing Hangar on Tuesday 25 April 2023.
The workshop will take place at both our TCH Matchworks and TCH Exeter centres and is open to all those who identify as female (regardless of presentation) that are interested in learning more about routesetting and getting involved.
What is routesetting?
Routesetting is the process of designing and creating climbing routes for others to climb. It's a vital part of the climbing industry and involves a mix of creativity, technical skills, and problem-solving. Good routesetters are able to create routes that challenge and inspire climbers of all levels, from beginners to advanced climbers.
At The Climbing Hangar, we reset weekly at every one of our centres. This means each one of our routesetters sets around 12 problems a week – around 600 a year!
What to expect from the workshop
The workshop will run from 8 am to 5:30 pm. We will start with a quick meet & greet with pastries and coffee, a safety briefing, and an introduction to routesetting. We'll set 2 problems across the day and all test each other's problems. You're welcome to hang around after the session to watch our climbers try your route! Lunch and refreshments will be provided.
We'll also send you some inspiration and guidance from a range of our routesetters before the day so you can come psyched and prepared on the day.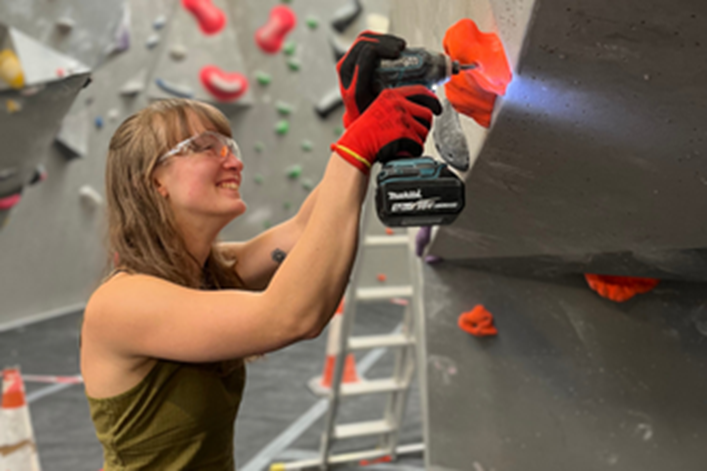 Why attend the workshop?
We aim for our routesetting workshop to be a fun and rewarding experience for climbers of all levels. During this workshop, you will gain a deeper understanding of the process of routesetting and improve your own climbing skills. Learning how to set routes can help you to better understand the challenges you face when climbing and can help to improve your technique and problem-solving abilities.
It can also provide a unique perspective on the climbing community and can help you to appreciate the creativity and hard work that goes into designing and setting new routes.
Why it's important to get more women into routesetting
The routesetting industry has traditionally been male-dominated, with few women involved in this field. This underrepresentation of women can lead to a lack of diversity in the routes that are set, which can limit the sport's growth and appeal to a wider range of climbers. Promoting gender diversity and equity in routesetting is essential for the growth and sustainability of the sport. Currently, our routesetting team at The Hangar is around 40% women and 60% men, all our setters go through the same training and continually develop their skills, which is why we have a reputation in the UK climbing scene for some of the best and most consistent high standard of setting.
Encouraging more women to become routesetters can also help create a more inclusive and welcoming environment for all climbers who visit The Hangar. By diversifying the routesetting team, we can ensure that a broader range of perspectives and experiences are represented in the routes that are set, which can help to foster creativity and innovation in the sport. Additionally, having more female routesetters can provide role models and mentors for young women and girls who are interested in pursuing careers in the climbing industry.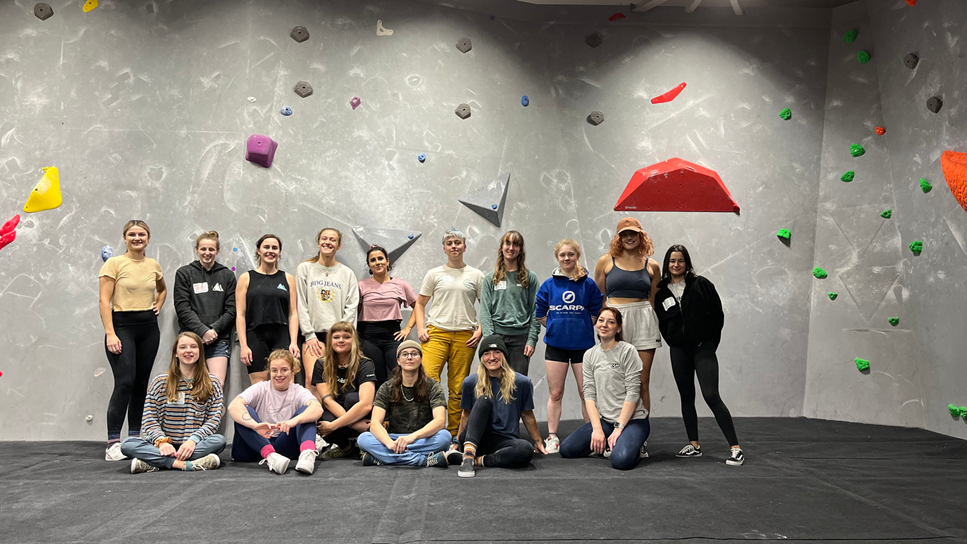 Hear from previous workshop participants
Don't just take our word that you'll have a great day! Here are some of our past workshop participants' thoughts on the day…
Eliza - "All the setters were amazing and I felt well taken care of by the team."
Megan - "It was fun, my favourite part of the process was testing and tweaking my climbs with a team and seeing the end product."
Imogen - "The community spirit of the setting and being together in a fun environment was lovely to be around."
Eva - "It was definitely a humbling experience - I learned a lot about myself in the process. It was also empowering and sweaty."
Join us for our free women's routesetting workshop on April 25th and learn more about this exciting and rewarding industry. We look forward to seeing you there!
There are only 8 places available at each site. To register your interest, please complete this quick form.