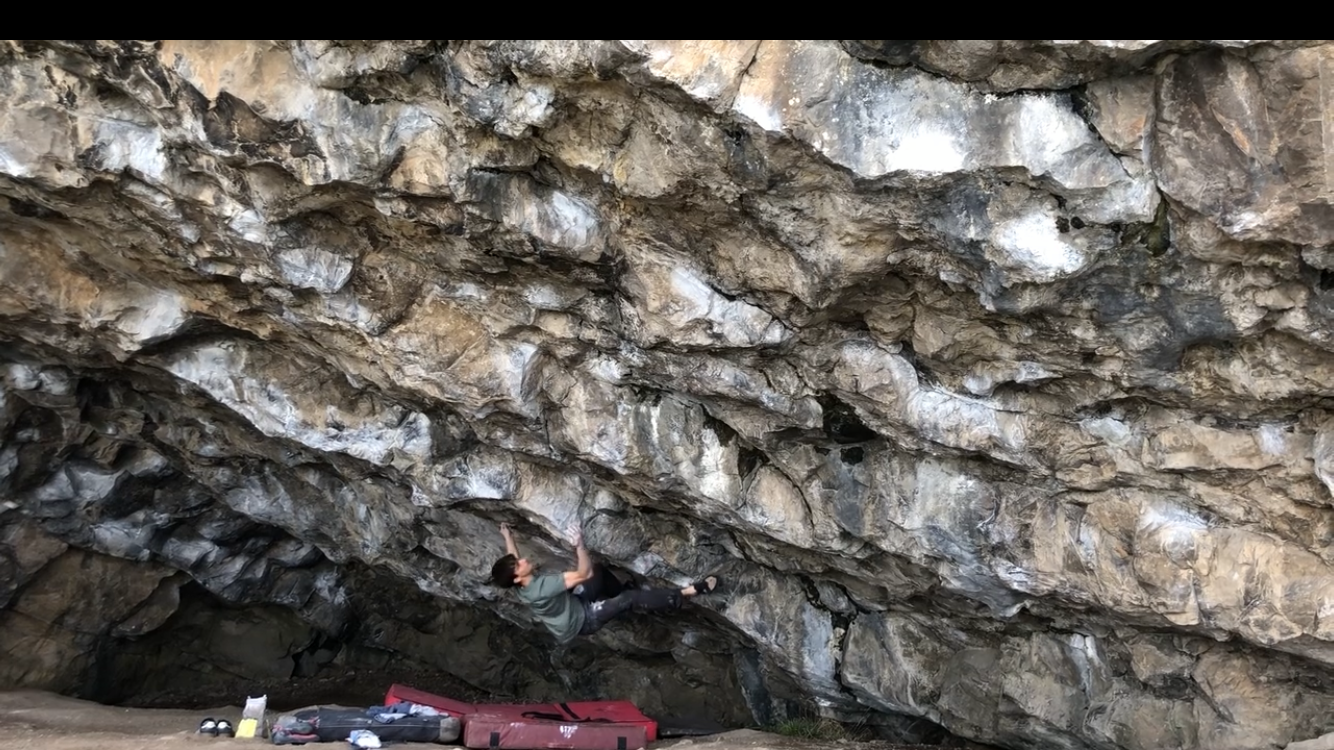 The best places to climb near Liverpool
Recommendation: Parisella's Cave - Distance from TCH: 1hr 20 mins (65 miles)
Obviously Liverpool isn't really close to any mega climbing areas but is an equal distance from lots of mega ones. There can only be one winner here really. No, surprisingly it is not the Gop but Parisella's cave. This place won't win any beauty awards, but my god the climbing is good and it has a special charm. It's powerful, technical and just down right burly. On top of all this, you get to climb with the background music from the pier and indulge in some classic fish and chips post session. Total win. 
Top Pick: So many good blocs to choose from in the cave of plenty but two stand out.
Lou Ferino V10: Classic cave bloc with squeezing and clamping. Good power endurance climbing with no real hard moves, just lots of steady moves. Class.
Hatchattrocity V11: It would be easy to choose Rock Attrocity but Hatchattrocity goes from the back of the cave and takes in a lot more climbing. Normally everyone's first V11 as it's very workable with no real hard moves. The first ascent was made by our very own Route Setting Manager Mike Hart. Legend has it that Mike won £50 in a bet for doing this problem in Crocs.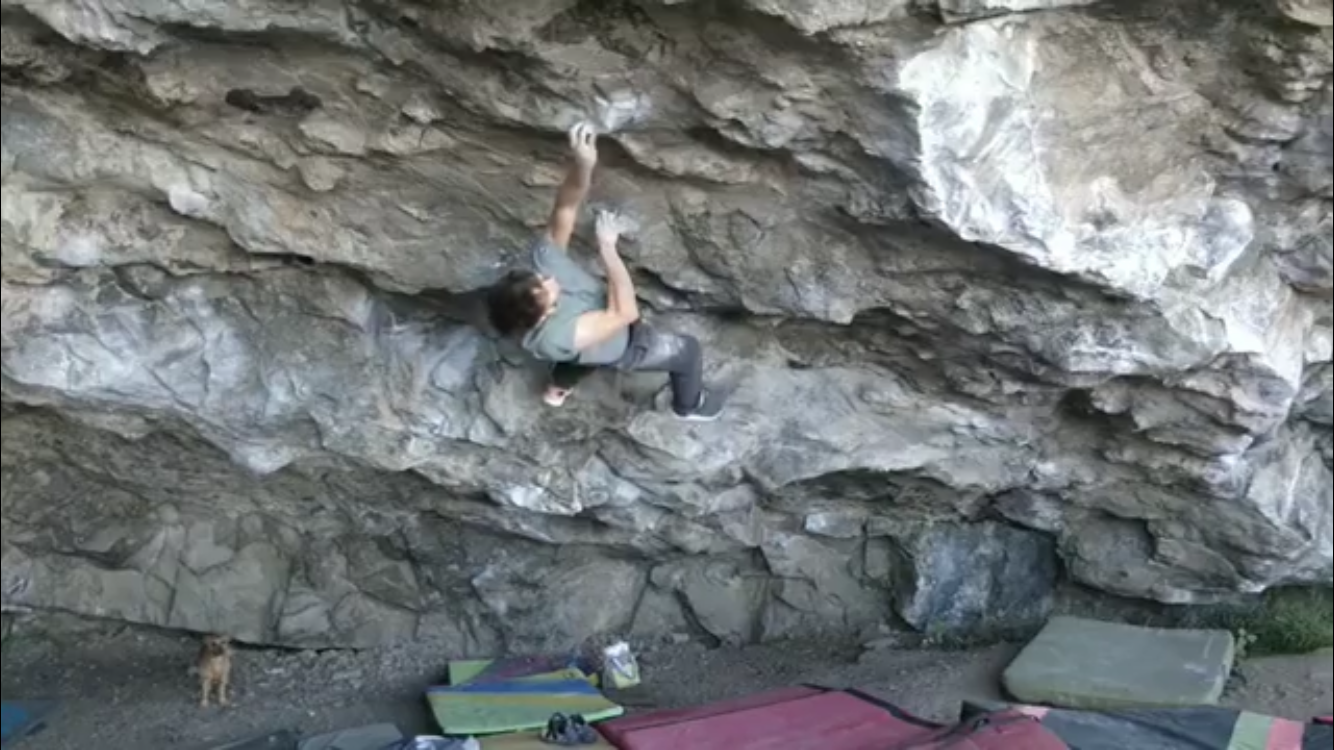 The best places to climb near London
Recommendation: Swanage - Distance from TCH: 2hrs 30mins (124 miles) / Portland - 2hrs 40mins (140 miles)
Tricky this one, given the city location and the distance required to get out to a quality climbing location, but I would have to say Portland or Swanage (depending on your desires to tie in to the stringy thing). Both of these areas are my close-to-home, growing-up spots so have a special feeling to them. They also happen to have stunning climbing. Portland has recently added a ton of quality bouldering, with locals being keener than ever and a quality guide being provided to help you navigate the blocs (which is well worth a look).
However for me the jewel in the crown, is the sport climbing of the area. Both Swanage and Portand have excellent climbing at the lower grades (Portland especially). Not only does it feel like a holiday when you are climbing with the sun on your back and the sea crashing away, but you can find routes that rival some of the best sport climbing out there.
Top Pick: I'll add a few here for a range of grades. 
6a+ Reptile Smile at Blacknor (Portland). Holy moly, what a route. This should be on everyone's ticklist for the area. Feels like being in Spain.
7b Road Rage at Cheyne (Portland). Could easily be in Europe with this route. Proper power endurance climbing with excellent rock quality and movement.

 

7c Keyboard Wall (Portland) Super technical and feels so hard until you do it and then it feels easy.

 

7c+ Souls of Mischief at Winspit (Swanage) - Beat my Dad to the 1st ascent and well worth it (don't worry he did it straight after). Quality roof climbing and lots of burly moves. Gets you nice and pumped too.

 

8b Event Horizon at the Promenade - My Dad's first ascent and blimey got to give it to the old man: what a test piece. Intricate climbing at a rather horizontal angle.

 
The best places to climb near Plymouth
Recommendation: Tintagel - Distance from TCH: 1hr 9 mins (40 miles)
Plymouth is unusual because, at first, there doesn't appear to be a lot of climbing in the area, but in reality there is loads and loads. Better yet, the local climbers are absolutely psyched out of their minds and one of the friendliest bunches of people you're likely to ever run into.
There is too much to choose from in reality but I would have to choose Tintagel as my favourite spot. While not very close to the centre, at all, compared to other places available it is well worth the journey.
Sea side bouldering on a super bloc that wouldn't be out of place at the best bouldering area in the world (shame there isn't 50 more of them). Tintagel is always brilliantly atmospheric  and has that holiday vibe.
It requires a good hike out, too, meaning you earn those post-trip pasties. 
Top Pick: With a bloc aptly named 'The Super Bloc' you can be guaranteed that more than one problem will stand out. However for me there is a hidden bloc tucked behind it called Colorado Dreaming (V10) and boy what a special problem. First ascent by Tom Newberry and what a gem. Steep roof climbing with shocking footholds. Ace.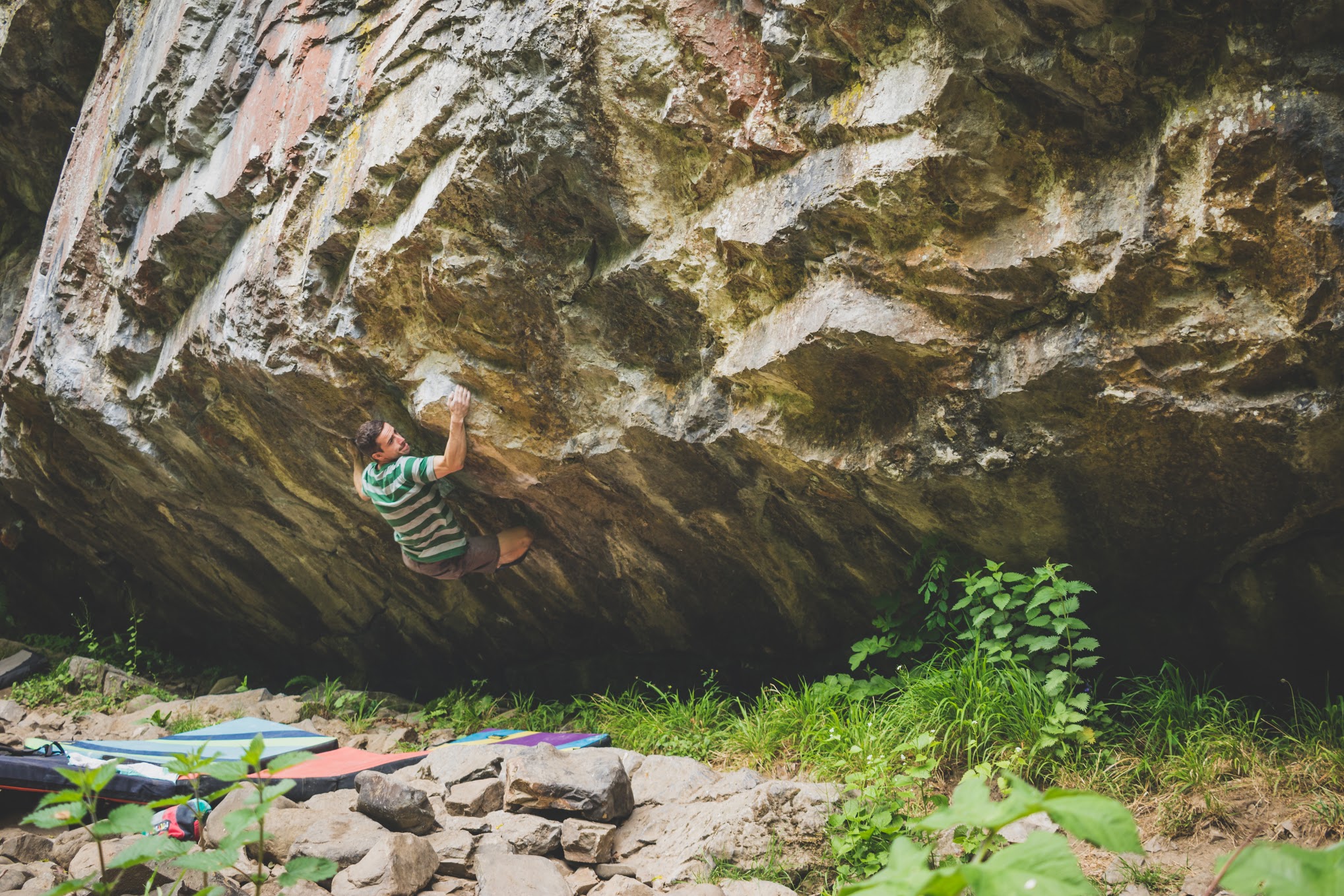 The best places to climb near Swansea
Recommendation: Dinas Rock - Distance from TCH: 20 mins (16 miles)
South Wales is filled with so many absolute beasts, it's shocking. The scene is just inspiring and lots of hard blocs get put up by local climbers. I was given a tour by our head setter Rich whilst working one week at Dinas and if you appreciate ratty limestone bouldering then this place is heaven.
The amount of hard climbing here was truly unreal and unless you're Liam Fyfe or Eliot Stephens, there is enough to keep you going for years and years.
Top Pick: For these recommendations I've deferred to one of the UK/world's best boulderers, who is also local to the area: Eliot Stephens. I've also turned over to our head setter at Swansea, Rich, since they have far more experience here than me. 
Eliot Stephens: 
1. Gentle Jess (V5) - one of the best Dinas Classics! Well known for a crafty kneeler, a big span to a side pull and a hard drop in after that. Brilliant movement and great holds.
2.The Origin (V14) - Probably the oldest standing Dinas project. Some physical moves on slopers and side pulls, into one stopper move from a razor blade to a triangle pinch. Then to top it off, a total style change into a V9 vert wall. It's the full Package!
Rich Marotta:
1.The Riot (V10) - My favourite bloc I've ever done. It takes you through the coolest sections of 3 classic blocks on the crag and is a rite of passage. It's a long, involved bloc that has a hard section, a technical section and a nice steady finish. A classic of South Wales.
Bonus Pick: The best place to climb near Liverpool Matchworks
Recommendation: The Gop - Distance from TCH:57 mins (46 miles)
So I get to cheat on this one, as we now have two Liverpool locations.
So with my reasonable travel time limit in place I could have chosen Llanberis Pass, Longridge or potentially the peak, but that wouldn't be true to myself. For this one I have to choose the Gop.
Why you may ask? It is a dirty Limestone cave normally filled with sheep (and sheep poo) and you have to walk up a big hill to get there. There is nothing easy that's fun and all the climbing is just relentless. Simply put, it's totally British.
If I could choose just one place in the UK to have on my deserted climbing island, this would be it. Sad I know, but it is what it is.
It really isn't worth visiting unless you are comfortably bouldering V7/8, but the harder you climb the more you get out of it. If you climb V11 then its just a Mecca of filthy, hard climbing.
Good views from the area, too.
Top pick: Paper Birds - V12
Why: I spent about 7 days on the 1st ascent up there battling away to get it done, getting excited, giving up, throwing my shoes etc etc.
It is exactly what I love in bouldering - short, powerful and an easy jug romp top out. Ideal.
Here's a snap of me getting it done.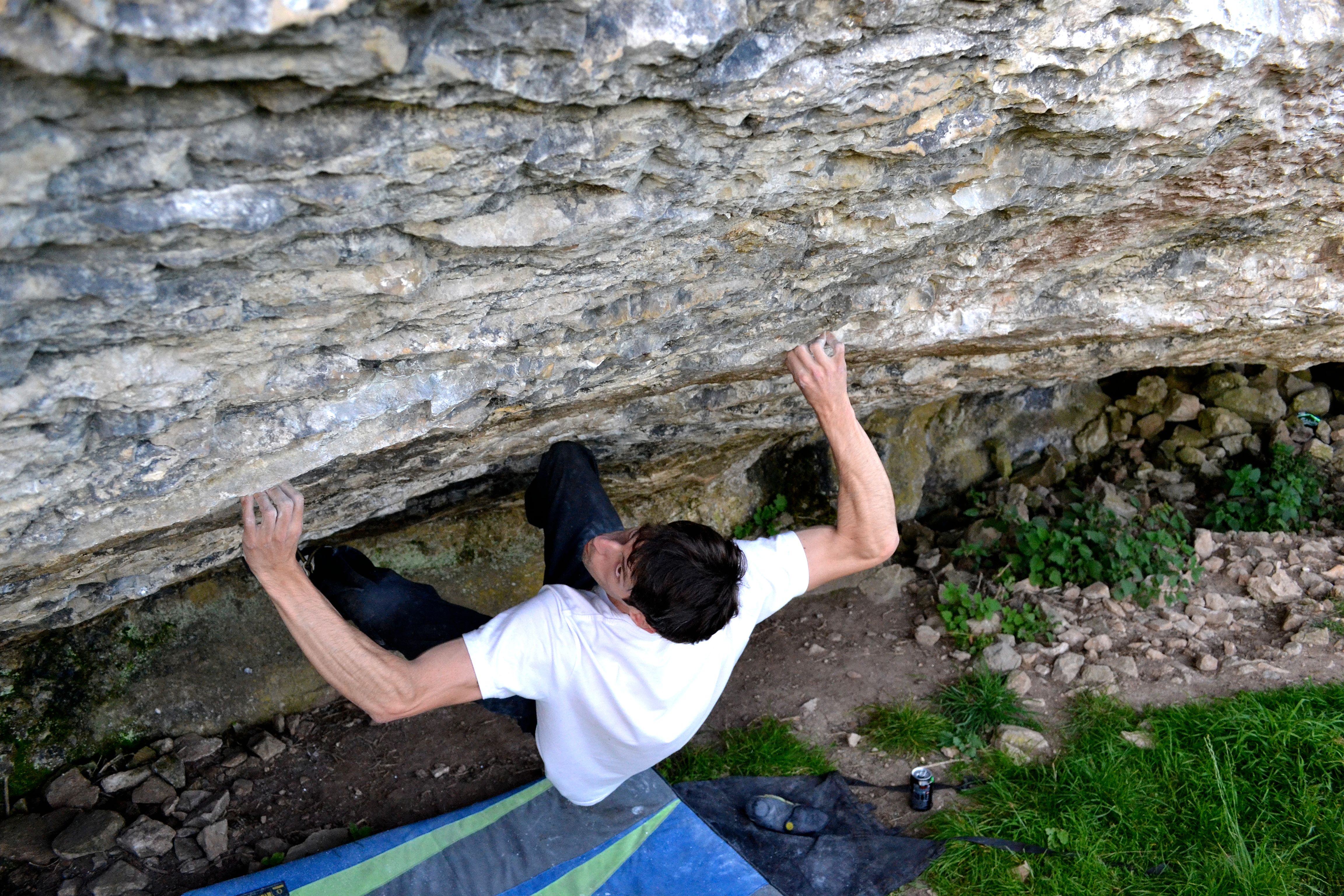 So there we have it: my favourite climbing spots in the UK, whilst touring the various Hangar locations.
As I stated at the start of the article, everyone is different so it's up to you to find your own diamonds, but hopefully this might inspire you to check out those areas when it is possible to do so.
For now, stay home, stay safe and get psyched for the future, when we can return to the game.