January. After my first year of international comps was cancelled, I was deep in the training grind and preparing for a possible 2021 season. Based in Plymouth and training at the Hangar between lockdowns, I was doing everything I could to work towards a season that might not happen.
At that stage, it was a case of preparing just in case there was the opportunity to compete, rather than any concrete confidence that the events would go ahead. All I knew is that if the comps went ahead, I needed to be ready. After months of hard work, I was beginning to hit my stride. Training was going well, and I was climbing as smoothly as ever.
With a national lockdown looming, I was left with a simple choice: stay at home and train on the board in my back garden or move to Sheffield in my van to continue my training.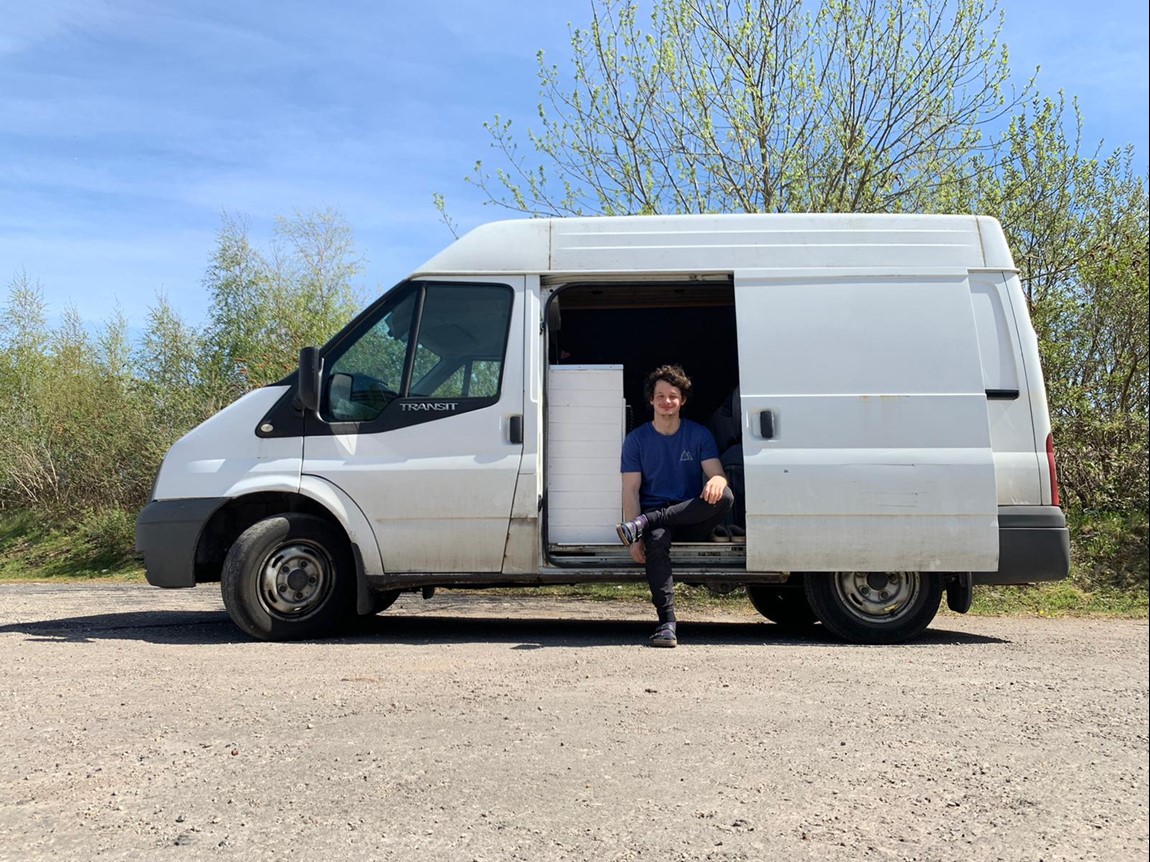 The place I've called home so far this year
One of the very few benefits of the dismal coronavirus situation is that GB Climbing has opened a private training centre to allow its athletes to keep training. Access is tightly controlled, and strict COVID prevention measures are in place to keep athletes and staff safe, and I am lucky enough to have access to the facility as a member of the British team.
Unfortunately for me, that facility happens to be in Sheffield, a cool five-hour drive from Plymouth and hardly within range of a daily training commute.
Training for comp climbing has become a whole different beast over the last few years. The climbing is getting more intense and complex every year, and with the addition of increasingly difficult coordination moves I knew the 2D nature of my 45-degree board simply wouldn't cut it as preparation if I wanted to challenge the best in the world.
So it seemed an obvious choice to move into the van. A small decrease in comfort, a big increase in quality of life. Living in this way would allow me to train with no distractions and full focus, something I have been missing for some time and I was hoping it would allow me to access the next level in my climbing.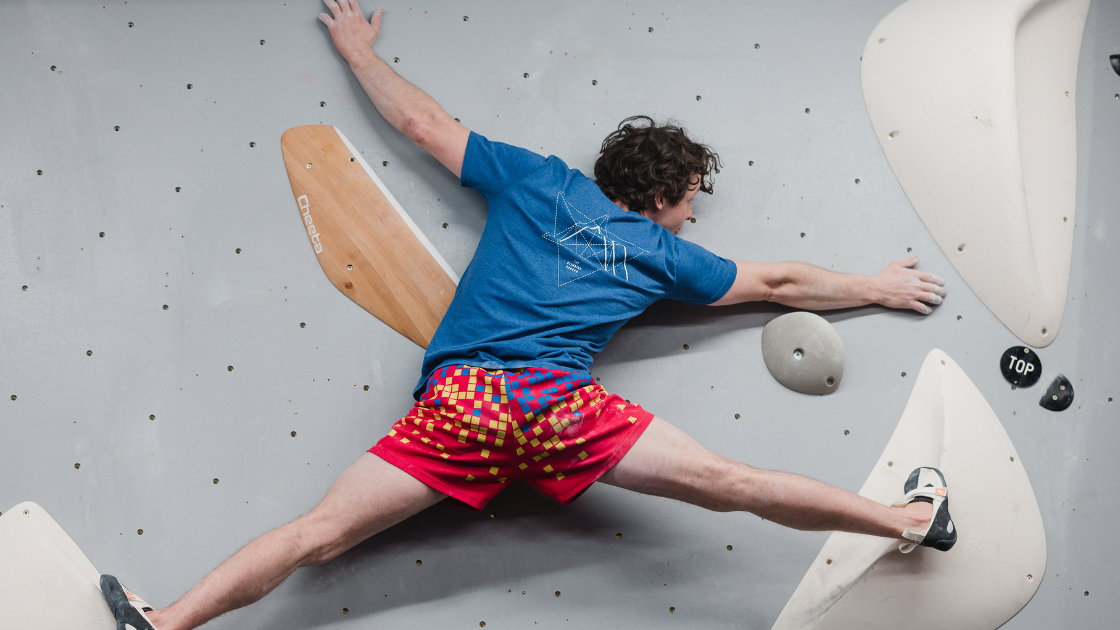 My goal for a long time has been to compete on the World Cup circuit. After finishing my junior career and moving to the US for university, I had been on the cusp of the senior GB team for 4 years before finally breaking through in 2019.
Having the 2020 season cancelled was a big setback, but it clarified my goals and made me even more hungry for the opportunity to compete in 2021. Selection for the bouldering season was at the front of my mind, 2 months of training before an all-important selection comp at the beginning of March. All I had to do was make as much progress as possible before that day and turn up ready to show what I could do. So I dived in.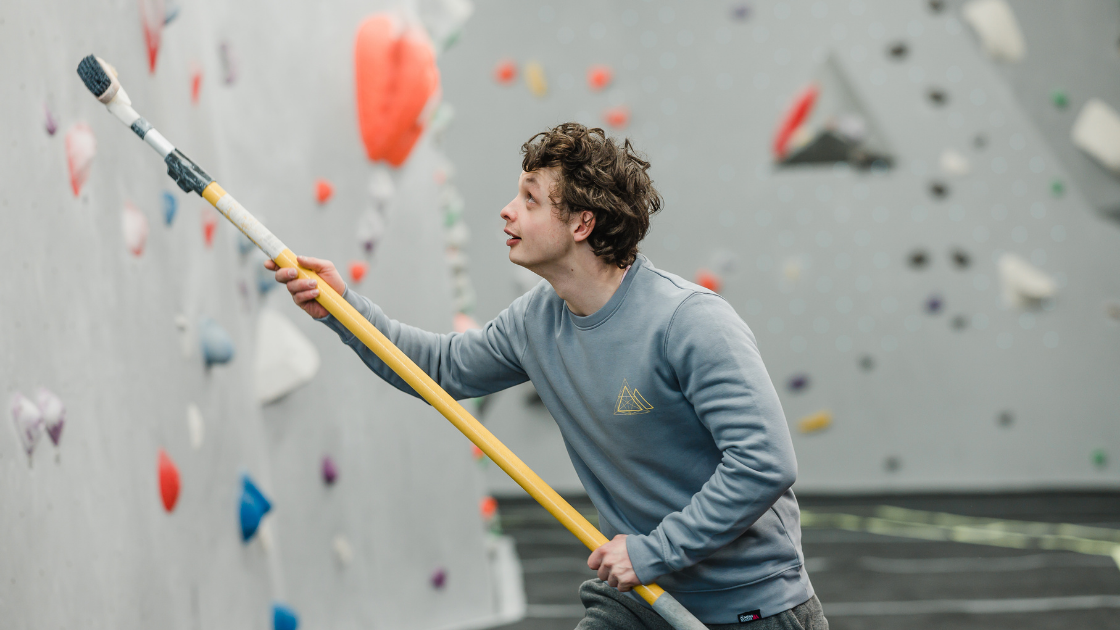 Brush those holds, people.
The first job for me was sleep. My natural sleep pattern has me rising late, waking up slowly and feeling ready to perform by mid-afternoon. However, comps are rarely in the evening!
One of the biggest detriments to my performance is that I am never firing on all cylinders when it matters, so this was my biggest priority. I committed myself to training in the morning every day at 9 am in an effort to form the habit. In a van with no windows, I found myself waking up in the dark and confused every day and needed to find a solution.
I ended up getting an alarm clock that simulated the sunrise every day, providing much-needed light in the morning to kick start my circadian rhythm. To my surprise, after a few weeks of suffering, I started to enjoy training in the morning! The structure of waking up, eating breakfast and getting training became so ingrained that I was warmed up and climbing almost before I realised.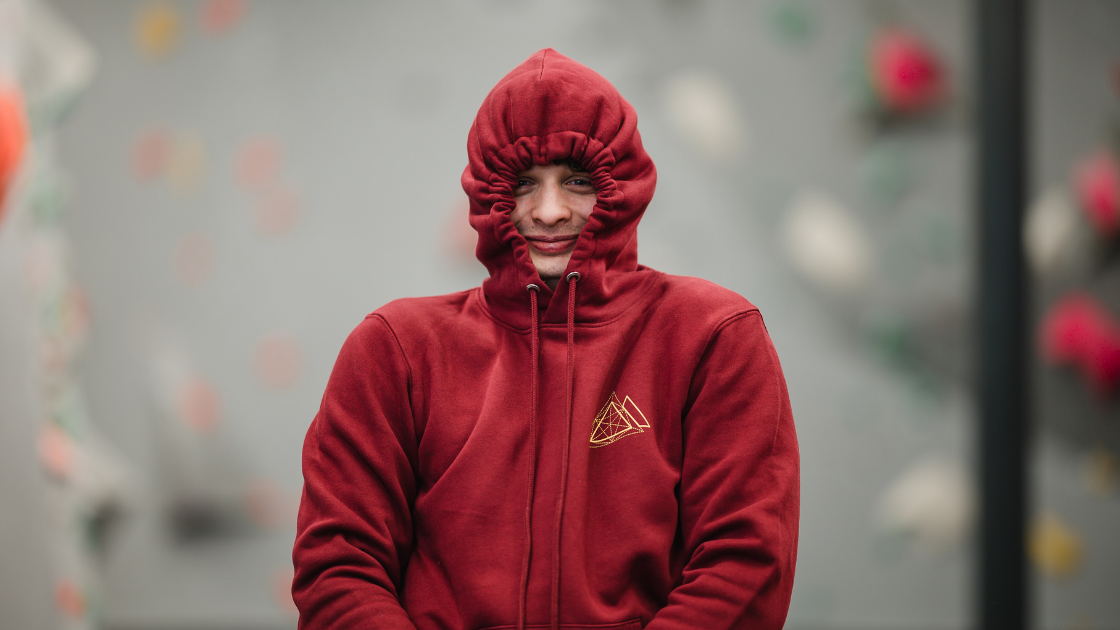 Old vans are cold, but Hangar hoodies are warm.
My key takeaway from the training environment was the importance of having other psyched and talented climbers around you. With walls being closed, the whole GB team was forced to train together consistently for the first time. If there was one benefit of the lockdown for me, it has to be this.
Every day I felt like I picked up on new knowledge, new technique and a new appreciation for the complexity of the sport. We were trying boulders harder than you would ever get in a 5-minute comp, working them as a team and learning how we each thought through the solution. Every boulder had some new skill to teach and a new subtlety to explore, and I left every session feeling like a better climber than when I entered.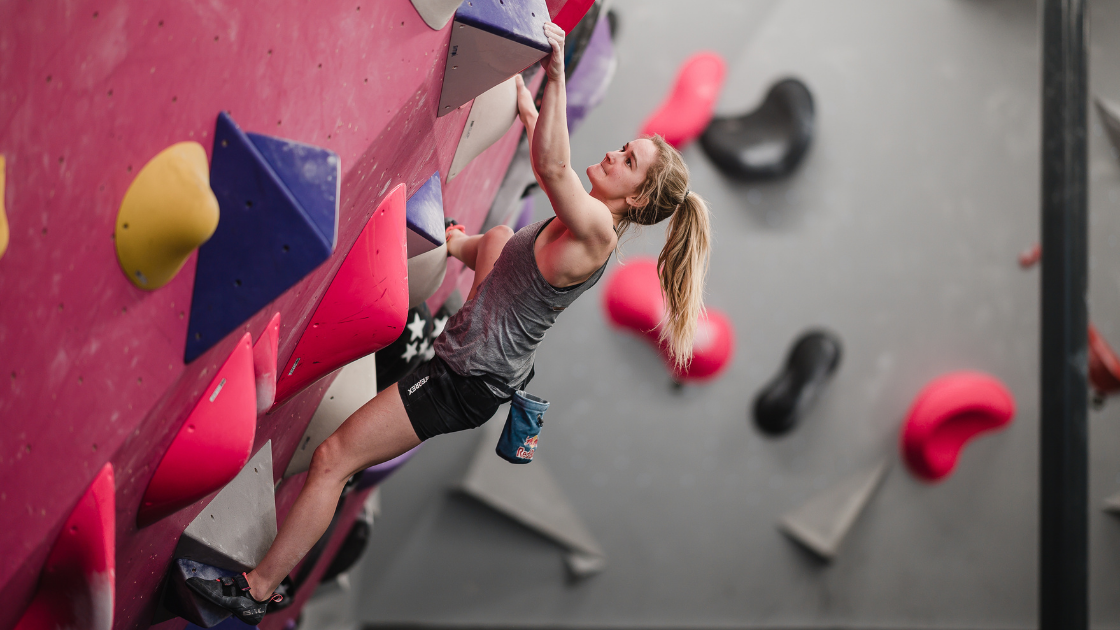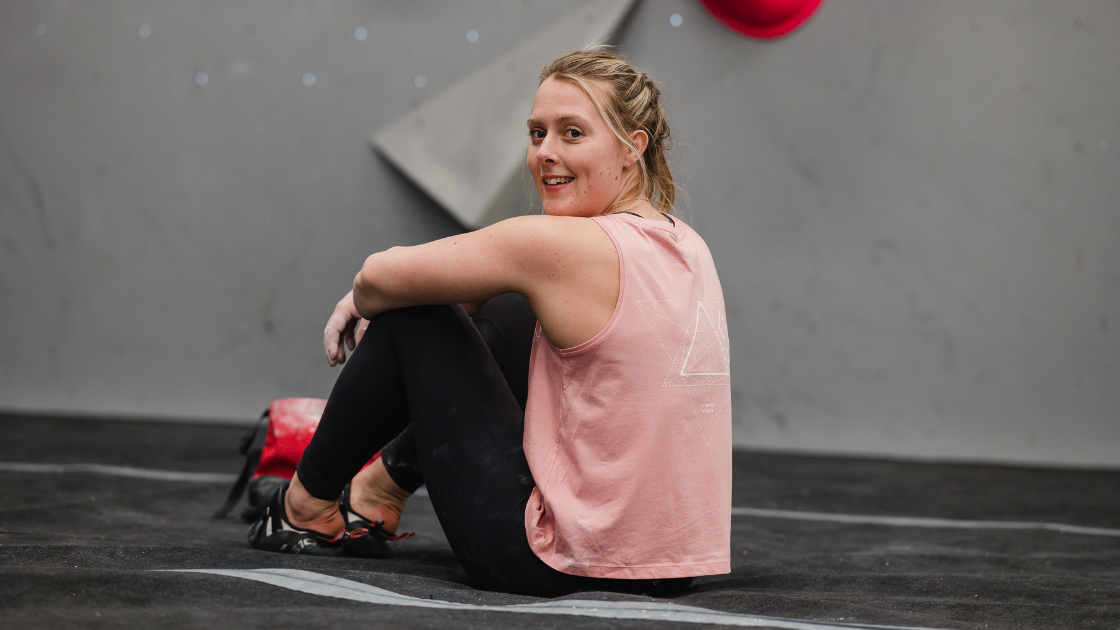 Sheffield is full of amazing climbers like Shauna and Gracie, who keep me on my toes.
Two months of hard training passed by before I knew it. Two months of stretching, lifting weights, jumping, scraping my shins, falling and sometimes topping.
All my numbers had improved in the gym, I felt more confident than ever on the wall and my mind was ready to compete. After so much focus, when I stepped out on the mats I felt truly prepared for the first time ever in a competition. I wasn't anxious about the result or whether I would be good enough, all I knew was that if I left everything on the mat and gave it all I had, I would have done everything I could. This realization was like a weight being lifted off my shoulders. I loved every minute of every boulder, even when I felt like I could be doing better. I let myself climb, tried hard and had a blast.
The result was a successful competition and a great day.
It's hard to give everything to a goal. If you give everything and fail, that hurts a whole lot more than if you give it half an effort. Only giving half an effort will always leave you wondering what could have been. These last few months have been hard at times, but I know I couldn't have done anything more to give myself the opportunity to compete on the world stage. After the selection process, I was lucky enough to get that opportunity: 2 bouldering World Cups in May in Salt Lake City, USA. Two more months to train hard, improve as much as I can and then leave everything on the mats. Game on.
Alex will represent Team GB at the IFSC Bouldering World Cup in Salt Lake City next month. You can follow him on Instagram, @waterhouseclimb.
It's time to get back on the wall
The Hangar is open for business, so it's time to dust off your climbing shoes and chalk up those hands.
Or if you're new to climbing, but psyched to give it a try, the chalk and free rental shoes are waiting for you right here.