Book Talk: Zofia Reych - Born to Climb
We are proud to be hosting Zofia Reych to talk about their new book - Born to Climb. There will be an opportunity to ask Zofia about their book and even the chance to get your copy signed!
Come down to find out more about the fascinating history of rock climbing, from early pioneers to Olympic athletes. Normal entry cost applies, so members can check out the talk for free! Details of each event are below:
Zofia Reych is a climber and anthropologist who has been working in the outdoor industry since 2015. This has taken them to Sheffield, Chamonix, Bulgaria and Fontainebleau and their work has included online marketing, ghost-writing and journalism, with articles published in national and specialist press in the UK, Poland and Germany. They also worked for EpicTV, climbing in Chamonix.
Zofia is currently based in the French bouldering mecca of Fontainebleau, and is the founder and director of the Women's Bouldering Festival, the biggest event of its kind in Europe. They are an accomplished boulderer (up to V10/7c+) and a proponent of sustainable climbing practices.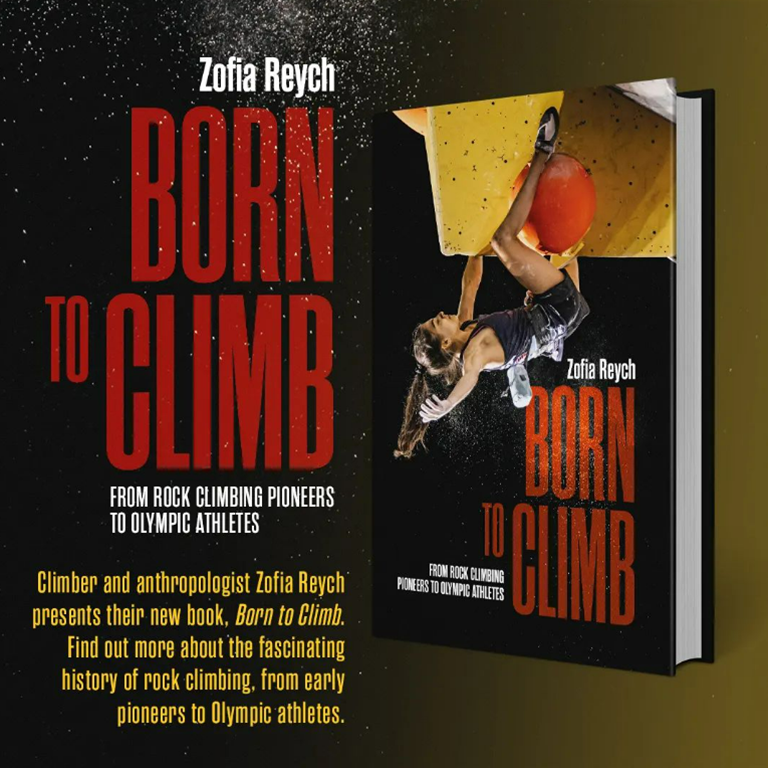 About the book
"Born to Climb: From Rock Climbing Pioneers to Olympic Athletes" is a cultural history of rock and competition climbing, interwoven with poignant personal stories and inspiring tales from the community.
The book goes beyond individual dates and events, instead tracing the sociopolitical context which made climbing into the discipline we know today. Fast-paced stories of adventure and breakthrough ascents are merely pieces of a broader narrative revealed to the reader across twenty chapters that critically explore the development of modern climbing. As Olympic climbing establishes itself as a mainstream spectator sport, recurring voices bemoan the loss of the discipline's countercultural heritage and rail against its popularisation; nearly every climber over 20 years of age remembers a time when crags were empty and gyms were a secret hangout of a nearly clandestine society.
In their talk, Reych traces the connections between the emergence of a modern capitalist society, mass media, and more than two centuries of climbers' antics on rocks, proving that climbing is, after all, not that dissimilar to football. Reych takes another look at the good and the bad of climbing's mass appeal, from increased diversity to sustainability challenges, and argues that while the sport's place within the mainstream is now more obvious than ever, the relationship is as old as the discipline itself.