Level up your climbing game in an Olympic training facility
Multiple-time bouldering world champ Shauna Coxsey's training for the Tokyo 2020 Olympic Games took place on an exact replica of the comp wall, right here at Hangar Sheffield. When we open to the public, climbers will be able to test themselves on that exact wall, featuring a wide variety of show-stopping climbs by a dream team of Hangar route-setters.
Combine your gym and climbing membership
Why pay for both when you can save money and have it all in one membership? The facility is complete with a training rig, a comprehensive selection of gym equipment and fitness classes led by our team of coaches. Our gym is perfect for members who want to condition and strengthen to support their climbing progression.

Meet like-minded climbers at our monthly events
We host a variety of events every month, from pro-climber talks, comps and boot demos to socials, signings, conferences and film premieres. Come and join a community of climbers who can help you smash your goals and have fun doing it!

Kick back at our fresh, locally-sourced cafe
We don't just want to feed the community, we want to support it, your Hangar Sheffield cafe features a variety of local brands and suppliers. With fresh loaves and sourdough pizzas baked right on site, along with a host of other treats and specials, you'll always find a delicious bite to eat. If it's breakfast, lunch, dinner or just a quick coffee, we've got you covered.
Exclusive member discounts on the best climbing gear
From Beastmaker to Adidas Five-Ten and our Bulldog Gear, we stock a huge range of climbing gear from the best brands in the game. Better yet, our members get exclusive discounts on merch and apparel.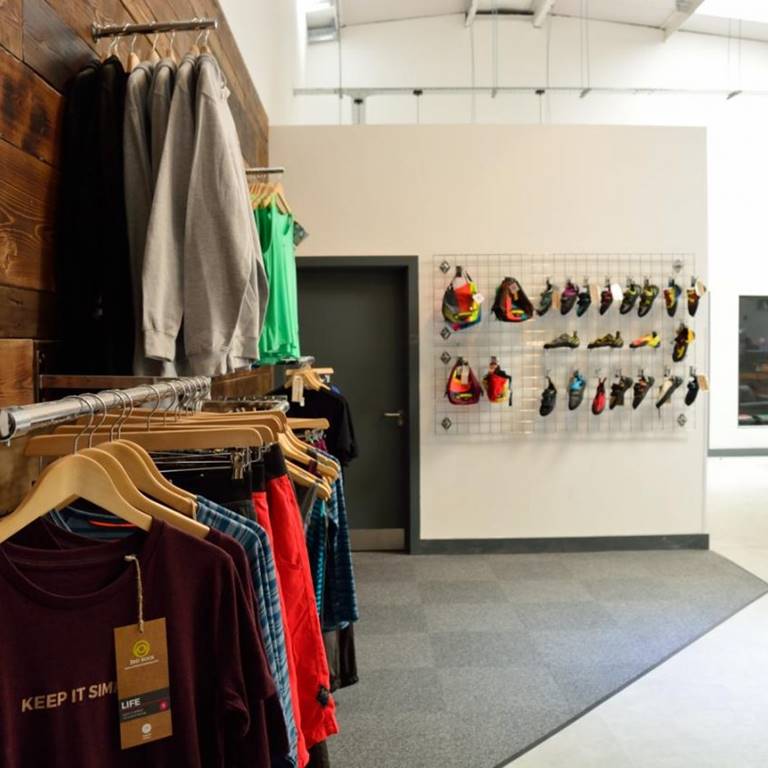 Where is the Sheffield hangar?
Our address is:
Unit A & B,
15 Sutherland St,
Sheffield,
S4 7WG
There's loads of on-site parking for bikes/cars and we're a 5min bike ride from Sheffield station. Alternatively, you can get dropped off by any number of buses (52, 9, X17 and X78) just 50m from the front door, getting to Hangar Sheffield is a piece of cake.
What time will we be open?
Mon - Fri: 06:30 - 22:00
Sat-Sun: 09:00 - 20:00
Phone number:
0114 437 2636
We're always ensuring you're climbing safely
The safety of our members and visitors is our number one priority and this isn't any different with the opening of our latest Hangar.
Dedicated crew cleaning high contact surfaces all-day
Hand sanitiser and cleaning stations throughout the site
Social distance protocols and safe one-way systems